Wednesday, November 17, 2010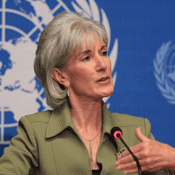 Visitors to the Jackson Convention Center during last week's Global Obesity Summit could be forgiven for a little mirthless laughter. Here was an international conference on treating and preventing obesity in the capital of the country's fattest state. If Mississippi had anything to teach the world, wouldn't it have taken those lessons to heart itself?
But the conference, a joint project of the University of Mississippi Medical Center and the Greater Jackson Chamber Partnership, represents a relatively new push to turn Mississippi's million-dollar liability into an asset.
Since 2000, UMMC has eyed obesity research as an opportunity to increase its prestige as an academic facility while also directly addressing the state's greatest public-health problem. The school enshrined obesity as a research priority in its 2005 master plan.
At the same time, the Greater Jackson Chamber has grown to appreciate the economic benefits of medical research. Aside from potentially lowering health-care costs, research also brings new money into the city's economy in the form of grants and human capital in the form of highly trained scientists and students.
Last week's summit was the ideal time, then, to announce UMMC's plans to establish a new obesity research center, Associate Vice Chancellor for Research John Hall said.
"We staged this in a sense," Hall said. "We wanted to begin getting community support, business leader support, and support from our state and federal government, so that once the center opens we'll have a kick start."
The Obesity, Metabolism and Nutrition Center will be located in the school's new Guyton Resources Center. Construction of the new center will be complete in April 2011.
UMMC has funds to hire roughly 10 new faculty next year. The center will also hire a director and lead researcher, using a $2 million endowment from Joe Sanderson Jr. of the Sanderson Farms chicken company. The obesity center's funding will come primarily from outside grants, giving a significant economic boost to the city, Hall said.
"It's not just taking money from people that are here and recirculating it," Hall said. "It's bringing new money that would've not been here. Economists say when you have research coming in, it has a four- to five-fold economic multiplier effect, because it raises salaries, it pays taxes, and people put it into the economy."
That benefit is miniscule compared to the drain that obesity exerts on the state, however. Obesity cost Mississippi roughly $925 million in 2008 in direct medical expenses, according to Hall. That figure, which is set to rise to $3.4 billion by 2018, only reflects the cost of treating obesity-related diseases like coronary artery disease, diabetes and hypertension. Obesity also impacts work-place productivity, absenteeism and transportation expenses, all of which could push its overall price tag even higher.
Efforts to address those costs will have to come primarily from the state and local level, U.S. Secretary of Health and Human Services Kathleen Sebelius said in a keynote address at the summit. Federal action can help set the tone for efforts, Sebelius said.
The Obama administration is working with manufacturers to improve nutrition labeling for beverages and packaged foods, Sebelius said. The labels will present key information, such as calories, sodium and fat amounts, on the front of an item to make it more visible to shoppers. Sebelius said that the administration intends to reform the arbitrariness in "serving size" suggestions on nutrition labels.
Ultimately, obesity prevention must start at home and in communities, though, she argued. The federal government can support local efforts with grant programs, she said, citing as an example the Communities Putting Prevention to Work initiative, a $450 million program in the 2008 stimulus package that funded local preventative-health initiatives. Sebelius said that she hopes innovations at the local level can expand to become best practices for other parts of the country.
While Mississippi did not receive any money through the program, Sebelius said that the state does have examples of successful community approaches to fighting obesity, citing Jackson Public Schools' urban garden initiative and a Jackson State University program that promotes double-dutch jump rope as a fun exercise for children.
"That creativity is bubbling here in Jackson," she said.
Previous Comments
ID

161053

Comment

I need to join the obesity Center because I have gotten a little too large to be in charge. Folks did y'all hear I got run out the airport recently? I refused to go through the slow-killing machine and they said they would have to pat me down inluding checking ever crack, crevice and tower. I retorted "get some fine women in here and I'll let one of them do it and kept walking toward the plane." They told me that hard hands John will be doing the search and about 4 of them tried to accost me. Before I knew it I swung on one of them and ran. I made it out of the airport and back to Ridgeland. I hear they're looking for me. Don't tell anyone where I'm at. Running with all this weight on me nearly killed me.

Author

Walt

Date

2010-11-22T18:49:42-06:00