Monday, November 15, 2010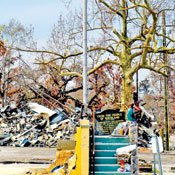 The U. S. Department of Housing and Urban Development settled a $132 million lawsuit last week allowing individual Gulf Coast renters to claim up to $75,000 for Katrina-related destruction.
Mississippi housing advocates, including the NAACP and the Mississippi Center for Justice, launched the suit in 2008, arguing that initial government Katrina assistance did not include renters and others who did not own their homes, as well as residents who only suffered wind damage from the storm.
Mississippi NAACP President Derrick Johnson said a majority of coastal residents denied home disaster assistance were those with low incomes. The advocates announced the settlement with HUD and the State of Mississippi today.
"This settlement justifies our original complaint that Mississippians affected by Katrina were left out of the equation for consideration to recover," Johnson said. "The damage to low-income people was substantial, but there was never recognition of home renters and the need for recovery dollars for them."
The NAACP joined the suit against HUD in 2008 in an effort to challenge the agency's approval of a $570 million diversion in housing funds toward the expansion of the port in Gulfport at the behest of Gov. Haley Barbour who said the port's expansion would speed the recovery of the coast. The NAACP charged at the time that the funds were not intended for development, but for the reconstruction of homes.
Johnson said many of the renters the hurricane devastated had no assistance to recover their belongings or invest in new homes and had to move further inland. Five year after the storm, many still have long commutes to their jobs, due to a lingering shortage of rental property along the Gulf Coast which increases their living costs.
The new funding, provided primarily through HUD's Community Development Block Grant program, is open to Katrina victims as far north as Hattiesburg. The Mississippi Center for Justice states that the new plan includes a new Neighborhood Home program that will repair lower-income homes damaged by Hurricane Katrina's flooding and wind in 2005. It also provides programs for qualified low-income residents to occupy federally constructed housing such as Mississippi Cottages and privately owned rental housing.
The center reports that people are eligible for the new aid if they have been turned down for previous state or federal Katrina aid, including residents who unsuccessfully filed for help with the Mississippi Development Authority's Homeowner Grant Assistance program and state housing resource centers, or residents on file with the Federal Emergency Management Agency who indicated the need for home repair or new homes immediately following Hurricane Katrina.
Residents in Hancock, Harrison, Jackson, Pearl River, Stone, George, Lamar, Forrest, or Jones County may qualify if they are a Housing Resource Center client, elderly, disabled, or they have unmet reconstruction or repair needs of more than $50,000 and do not have more than $25,000 in liquid assets--excluding retirement accounts. Other qualifiers include people with expenses will exceed 90 percent of their net income, including medical expenses related to Katrina.
Mississippi Center for Justice Communications Director Sharon Garrison said the state would be engaging in an outreach effort to contact potential candidates for recovery funds who did not previously attempt to file for storm aid.
To apply for aid, call United Way's 211 Program toll free at 866-472-8265, or in Jackson, call 601-360-0450.
Previous Comments
ID

160911

Comment

Thanks Adam for this very tastefully written account of the things that happened to people on the Coast who were victims, but, could not access any funding because they were not property owners. My hat goes off to Derrick Johnson and the NAACP for being a real trooper in seeing this legal action to its fruition. This is HUGE!!!

Author

justjess

Date

2010-11-15T15:10:09-06:00