Monday, November 15, 2010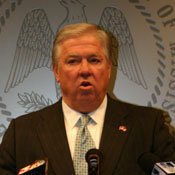 Gov. Haley Barbour will release his budget proposals for the upcoming 2012 fiscal year, which begins July 1, 2011, during a press conference this afternoon.
The Joint Legislative Budget Committee has estimated that the state will have $4.6 billion to spend. Last year, the legislature finalized a $5 billion budget for the year ending June 30, 2011.
In October, Barbour sent a letter to all state agencies requesting that they review operations and provide recommendations on the impact of a 15 percent cut below fiscal year 2011 operations. In 2009, Barbour proposed closing several mental health facilities and crisis centers. Mississippi schools have lost about 700 teachers, nearly 800 teacher's assistants, 164 administrators and 402 support staff from 2009-2010 budget cuts. 


The state Legislature will vote on a budget by early April, 2011.