Wednesday, November 3, 2010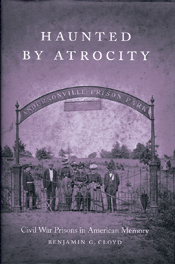 Americans prefer myth to history, asserts Jacksonian and Hinds Community College history professor Benjamin Cloyd. In a new book examining the realities of prisoner-of-war camps during the Civil War, Cloyd shows how our preference for fables inhibits a candid assessment of the evils committed during the Civil War and beyond.
"Haunted by Atrocity: Civil War Prisons in American Memory" (Louisiana State University Press, 2010, $37.50) "offers a cautionary tale of how Americans, for generations, have unconsciously constructed their recollections of painful events in ways that protect cherished ideals of myth, meaning, identity, and, ultimately, a deeply rooted faith in American exceptionalism," the publisher states.
Benjamin Cloyd reads and signs "Haunted by Atrocity" at Lemuria Books (202 Banner Hall, 4465 Interstate 55 N., 601-366-7619) Thursday, Nov. 4 at 5 p.m.
Previous Comments
ID

160674

Comment

The text above to the left does not match the bookcover at the right. Both books sound do sound interesting. I called Lemuria and both are available. The Neo-Confederate Reader is $25.00. Both books are softcover.

Author

FrankMickens

Date

2010-11-03T11:47:36-06:00