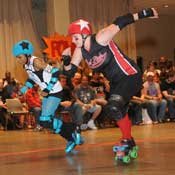 The Magnolia Roller Vixens, Jackson's roller derby squad, are a group of women who blended aggressive athleticism, strategy, and teamwork as they practice. Roller derby, a female-dominated sport, is not for the faint of heart. A full contact sport, the game requires each woman to unleash her competitive and aggressive side while on the track.
The Magnolia Roller Vixens is comprised of 40 players and is female-only. The Vixens have the ambition to become fully certified by the Women's Flat Track Derby Association, which would rank the team nationally and give it more long-term viability.
"Men have rough sports," president Sumati Thomas explains. "They have football. They have rugby. They have aggressive, full contact sports. Roller derby is pretty much the only full contact sport for women."
Roller derby marries the tough and rowdy action on the track with the ultra-feminine appearances of the women. Many of the Roller Vixens take on ironically retro, pin-up-inspired personae. Before a health concern motivated her to move to refereeing, Thomas took the name Lizbeth Von Lush.
"We're girls and we like being pretty," Thomas says. "That's another thing that drew me to this sport. The thing I love about roller derby is that you can still be girly, still be feminine, wear skirts and frilly stuff, but still be tough at the same time. To me that's what a woman is: We are tough, we deal with a bunch of stuff, but we're still soft and pretty. So I think it showcases both sides of the female personality."
Many of the women donned fishnets, knee socks, outer underwear, and form fitting or short clothing for the practice, exhibiting their feminine side. The team's vice-president, Jacqueline Sledge Prince, takes the rink name, Princess Sledge Rammer.
"I get to wear things that I normally don't get to wear throughout the day," Prince says. "It's a true culture. I lost 40 pounds (skating), so I like to show off what I earned. You get to show off your character."
Thomas describes Prince as "one of our best blockers, but fast enough to be a jammer. She's intimidating."
Critics have pointed out that aspects of roller derby culture are unfavorable to women, but advocates of third-wave feminism have propelled its revival in the last 10 years.
"Some people say when we're out there wearing fishnets and stuff we are objectifying women," Thomas adds. "But I am wearing what I wear because it makes me feel good and it is making my confidence go up."
"I'm usually quiet and reserved," says Thomas, who works as a technology instructionalist at Tougaloo College. "Since I became a leader, it has helped me take leadership at work, as well as within our league. I'm still quiet, but I'm more apt to go out and strike up conversations with strangers. I've seen that a lot with our 'fresh meat.' Jackie was another case. She was quiet and reserved when she began roller derby. You can tell it's really built her confidence in the way she dresses and the way she acts."
"The grassroots roller derby people had nicknames, so it has become part of the sport," says Thomas. "It's a good way to bring out that different personality, we have girls that are nurses, librarians, teachers, so when they get on the track they're their derby persona."
Prince agrees the derby persona empowers the women on the track.
"It's an adrenaline rush. I'm usually pretty nervous before I get out there, but once I do get out there, I just take on my whole derby persona," she says. "I just get mean and aggressive, something I am totally not like during the day. I work in a doctor's office. I'm always nice during the day so once I get out on the track it's no holds barred. It's down and dirty."
Besides fostering a secure identity of each individual on the team, a strong bond is formed on the track.
"It's completely focused on teamwork," Prince says. "You have to know where your teammates are on the track at all times. It builds bonds, a lot of females these days don't have that, so you form a relationship with all of the girls out there. "
Though some assume a typical roller derby player must be unfeminine, Thomas asserts that this is a common misconception.
"Most people think that you have to be some big burly, mannish woman who is going to talk like a caveman or something," she said. "But there are all shapes and sizes on the team."
The Magnolia Roller Vixens in particular are a very unique team. Ages of women on the team range from 18 to over 40, and not everyone embodies the punk stereotype normally associated with roller derby style.
[i[Tickets for the May 29 bout against the Pearl River Roller Derby at the Jackson Convention Center are $12 in advance and $15 at the door. It will be held The doors open at 6 p.m. and the event starts at 7 p.m. The team is offering a 10 percent discount for military personnel in recognition of Memorial Day.
Previous Comments
ID

157988

Comment

Roller Derby is great! I'm a gonna be there with bells on!

Author

Rico

Date

2010-05-28T16:43:40-06:00