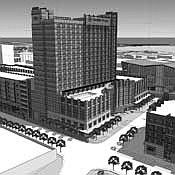 TCI-MS, formed to develop the Capital City Center and a Convention Center hotel on four blocks of Pascagoula Street, paid its overdue property taxes this week.
Last week, the Jackson Free Press reported that Texas-based developer Mark Small and his company owed $120, 463. 34 in 2009 property taxes for all its investments in Hinds County and $16,990.36 for its properties associated with the hotel that were due Feb. 1. The story also reported on the complicated history of the development and its associations with Texas businessman Gene Phillips.
Last Tuesday during a closed session, Mayor Harvey Johnson Jr. released an executive summary to Jackson City Council members outlining an agreement with TCI-MS to help finance the $200 million development. The city released a statement after the meeting highlighting the components of financing the project, which includes renewal bonds and other incentives, but did not specify a dollar amount. TCI-MS has agreed to pay $10.3 million as a fee for the city's participation in the bonds.
The JFP submitted an open records request for more details of the financing on Wednesday, May 19. The city has a maximum of 14 working days to respond to the request, according to the state's open-meetings law.
Reached by telephone Monday, Small, president of MJS Realty in Dallas, briefly addressed the tax delinquency but would not elaborate of the details on the city's tentative non-binding agreement with TCI-MS.
"The tax issue is the only thing I'll share with you. I don't take kindly to reporters dredging up crap on my partners." Small said. "... As far as taxes go, there was some confusion between the tax department and some agreements we had in place with the Convention Center. We'll have those paid fully by mid-to-late next week."
Hinds County Tax Collector Eddie Fair confirmed that the taxes had been paid and said that it isn't uncommon for property owners to pay taxes as late as August although the deadline is Feb. 1.
"They aren't the only one," Fair said. "There are a lot of people who haven't paid at this time because you have until the last Monday in August before there is any problem, because the tax sale is the last month of August."
Fair added that on the last Monday in August, the county has the authority to take over properties that haven't paid property taxes and put them up for auction. Properties that do not pay on the Feb. 1 deadline incur a penalty fee of 1 percent of the assessed property value per month.
"You will find that just like our former mayor (Frank Melton) he didn't pay until maybe a day or so before the tax sale," he said. "There are a lot of businesses that don't pay until the last minute."
Previous Comments
ID

157981

Comment

We don't take too kindly to your kind 'round here panda bear.

Author

DrumminD21311

Date

2010-05-27T16:54:47-06:00
ID

157982

Comment

The city needs to stop stonewalling and turn over those documents. There is NO excuse to delay 14 days -- that's supposed to be for documents that are hard to retrieve. You cannot argue that in this case.

Author

DonnaLadd

Date

2010-05-27T17:00:32-06:00
ID

157983

Comment

And it always gets me when someone says not to "dredge up" the past (whether recent or distant). (A), it's what good reporters do in order to give valuable context to stories. And (B), this is really the wrong state to complain about "dredging up" the past in. If people don't mind Mr. Phillips' past adventures, that's fine. But taxpayers who will pay for a chunk of this hotel deserve to know the history of Mr. Small's partners. With due respect.

Author

DonnaLadd

Date

2010-05-27T17:03:47-06:00
ID

157984

Comment

And if they're mad about Lacey's story, then she must be doing something right and they have things to hide.

Author

golden eagle

Date

2010-05-27T19:03:32-06:00