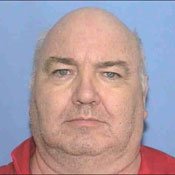 At the Mississippi State Penitentiary at Parchman, a large 307-pound man clad in a red prison jumpsuit lies on his back on a gurney. Seven straps cover Paul Everette Woodward: one around each ankle; a strap around his shins; one above his knees; one above the inmate's rising and falling belly; and two straps crisscrossing each other over his chest.
Two extensions coming out of the gurney support his arms, with straps across his biceps and forearms. His fingers are hidden in leather sleeves at the end of each armrest. An intravenous tube runs up the length of each arm and under each sleeve of Woodward's jumpsuit. Each tube exits the top of the gurney near his head and runs into two small holes in the wall, on either side of a large door with mirrored glass. Behind the door is where the executioner will turn on the IV machine, where a deadly barbiturate cocktail of sodium piothental, pancuronium bromide and potassium chloride waits to enter Woodward's body through the saline drip.
Woodward's execution comes after 23 years on death row. He's been there since confessing to the kidnapping, rape and murder of 24-year-old Rhonda Crane in Escatawpa, Miss., in 1986. Woodward had backed up his logging truck to block the road. When Crane got out to see what was wrong, Woodward forced her into his truck at gunpoint, and then drove her into the forest where he beat and raped her. Woodward dumped Crane's body in the woods after shooting her in the back of the head. Crane's father found her body the next day.
Woodward doesn't have any family members present at his execution. After prison officials transferred him to the execution unit 48 hours prior to his death, Woodward had the opportunity to include 10 names on an unlimited collect-call list. Woodward only included his two attorneys, C. Jackson Williams of Oxford and Nina Rifkin. Williams was the only one present on his behalf.
As the 62-year-old stretches his neck looking from left to right, he briefly licks his lips, possibly thinking back on his last meal—he had saved room for it all day by hardly touching his breakfast or lunch. The last meal Woodward would ever taste was a hamburger grilled well done with lettuce, tomato, onion, dill pickle, mustard and mayo. He ordered French fries with salt, fried onion rings, a bowl of chili without beans, a pint of vanilla ice cream, and two 20-ounce root beers. He did not request a sedative before being transferred to the execution chamber.
Mississippi Department of Corrections Deputy Commissioner Emmitt "E.L." Sparkman lowers a microphone from the ceiling and points it down at Woodward's face, so the inmate can say his last words.
"I would like to say the Lord's Prayer," Woodward says in a thin, quavering voice. "If anyone would like to join in, please do so."
Ken North, MDOC director of corrections investigations, is the only one praying with Woodward. His mouth moves silently; those present in the white room only hear Woodward's voice through the speaker on the ceiling. "… For thine is the kingdom, and the power, and the glory, forever. Amen. Thank you warden—I'm sorry—commissioner." Woodward says.
The first chemical coming through the IV is Sodium piothental, a barbiturate that renders Woodward unconscious. Death-penalty opponents say lethal injections are "cruel and unusual punishment"; many times the sodium piothental dose was not strong enough to keep the inmate unconscious throughout the 15-minute process, causing unnecessary pain and suffering.
Woodward's head drifts to the right, and his eyes close. His breathing slows, and his belly rises less with each breath. The executioner now introduces the second drug, pancuronium bromide, into his bloodstream. This drug is meant to paralyze the inmate, effectively stopping his breathing. Woodward doesn't appear to be moving, although in the reflection of the overhead lights in his glasses, he is quivering rapidly.
After several more long minutes, Sunflower County Coroner Heather Burton places her stethoscope on Woodward's chest, listening for a heartbeat. She nods somberly.
"Time of death, 6:39 p.m., May 19th," Burton pronounces.
The victim's sister, Renee Lander, witnesses the execution with her cousin, Kelli Belcher, who holds up Crane's senior portrait at a post-execution press conference. Lander says her sister, the valedictorian of Moss Point High School's 1979 class, lived a Christian life up until her death.
"She worked many, many hours helping neglected and abused children," Lander recalls. "She helped many lost souls in her community. And loved life. Loved her family."
Lander says Woodward's death came too late, and remarks that his punishment wasn't brutal enough. "It was like watching someone being put to sleep before a surgery," Lander says.
"He gave her less than an hour to live after kidnapping her. And he fought for 24 years to continue to live. I think he should have personally died the next day."
Woodward's execution was the first of two back-to-back executions in Mississippi. On May 20, the state executed Gerald James Holland, 72, for the rape and murder of 15-year-old Krystal Dee King. These were the first back-to-back executions in Mississippi in almost half a century.