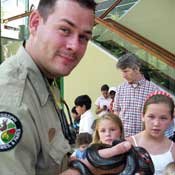 Despite the fact that snakes have bitten Bryan Fedrick more than 100 times, he says he loves the slithering reptiles and wants to educate others about them.
"It's not that bad, getting bit, it's about the equivalent of running into a briar patch," Fedrick, a herpetologist with the Mississippi Department of Wildlife, Fisheries and Parks says. "I've never been bitten by a venomous snake, but I've been bitten 100 times by non- venomous snakes. In fact, I got bit this morning,"
On Tuesday June 1, Fedrick will bring about 55 snakes to the Mississippi Museum of Natural Science during "Snake Day: Mississippi Style," a presentation about Mississippi snakes and their native history. He has spent the last three months traveling to various parts of the state and collecting snakes for his presentation.
Fedrick, 32, grew up in Clinton and said he feared snakes when he was child. When he was 11, he encountered a cotton mouth snake in the woods outside his home and killed it, fearing for his life.
"I felt awful," he says. "I asked myself 'why did I do this?' I wanted to understand what it was that I was so afraid of."
The snake encounter was the catalyst for Fedrick's future career studying reptiles and amphibians, and now he educates children and their parents about snakes.
"In this field, I can try my best to help people," he says. "When people come to Snake Day, I want to help them understand more about snakes. They deserves our respect and are a valuable part of the ecosystem."
Fedrick has a bachelor's degree in wildlife science from Mississippi State University and a master's in environmental science from Jackson State University. He currently lives in Clinton.
"Snake Day: Mississippi Style" is Tuesday, June 1, at the Mississippi Museum of Natural Science. Presentations are at 10 a.m. and noon.