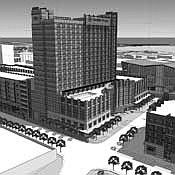 A company formed to develop the Capital City Center development on four blocks of Pascagoula Street, including a convention center hotel, has not paid taxes on the property for 2009. According to the Hinds County Tax Collector's website, TCI-MS owes $120,463.34 in property taxes for all its investments in Hinds County and $16,990.36 for properties associated with the hotel, which were due Feb. 1.
Jackson Mayor Harvey Johnson Jr. said yesterday that he was unaware of the tax delinquency as he prepared to present an executive summary to City Council on ways the city can help make the mixed-use development a reality. "We want to make sure that the property, that all the taxes are paid and that we are satisfied that all this will be taken care of, but you're telling me something that I didn't know," Johnson said when the Jackson Free Press asked him about the overdue taxes Monday.
In 2006, Mark Small, president of MJS Realty in Dallas, formed TCI-MS, a limited liability company, as a partnership with the publicly traded company Transcontinental Realty Investors, also based in Dallas, to purchase the property located between Pearl, Mill and Pascagoula streets in downtown Jackson for $1.5 million.
The proposed $200 million development would consist of two hotels, residential, retail and office space. The current plan entails a 19-story Crowne Plaza Hotel with 300 guest rooms, a 175-room Staybridge Suites Hotel, a 1,500-car garage, skywalks linking the hotels with the convention complex, a 200-unit "luxury" apartment building and a 150-unit independent senior living complex.
A recent public-records request to the Jackson Redevelopment Authority revealed that TCI-MS was the only entity to submit a bid proposal for the project in 2006.
As the Jackson Free Press reported yesterday, Johnson announced at a city council work session yesterday that he would present the study on the development to council members during a closed executive session today because of "confidential matters." The mayor said he could not release details of the deal, which could result in a cost-sharing agreement with the developers, until he presented it to the city council. The Jackson Free Press has requested a more specific reason for the executive session, but calls to City Attorney Pieter Teeuwissen were not immediately returned. 

Michael Cory, an attorney with the Danks, Miller, Hamer and Cory Law Firm representing Small and TCI-MS, said today that he did not know about the unpaid property taxes but said he would look into the matter. "That was something I was unaware of, but they will certainly be brought up to date," Cory said. "Certainly, we want to see the city get their taxes and see them paid properly."
Cory said that TCI-MS and TCI are not the same entity, but are partners in the Capital City Center development.
TCI is closely connected with Basic Capital Management founder and former CEO Gene Phillips, who former Mayor Frank Melton championed for high-price development in Jackson, including the King Edward Hotel, which was done by a different development team. The JFP previously reported that Phillips has a history of controversial business involvements. His company, Phillips Development, filed bankruptcy in 1973, showing $30 million in debt. A second company that he chaired, Southmark Corp., went bankrupt in 1989 during the high-profile savings-and loan-scandal and had assets of more than $8.5 billion, according to the U.S. Department of Justice.
In 2010, Phillips' ownership and role in the companies he and his family created and manage are more convoluted than in the past. In 2008, the SEC reported that he represents his children's trust, which now owns Basic Capital, and according to the SEC and TCI-MS' attorney Cory, Phillips advises TCI and its developments, including TCI-MS. His children's trust owns Realty Advisors Inc., and Phillips himself owns Syntek West. Those two companies, in turn, own Prime Income Asset Management Inc., the sole member of Prime Income Asset Management LLC. That LLC is the contractual adviser to TCI.
The federal government indicted Phillips in June 2000 in an alleged scheme to bribe union officials in a proposed sale of preferred stock shares of a company advised by BCM. The FBI's "Operation Uptick" indicted 120 people in the scheme, including members of several organized-crime families. Phillips was acquitted of those charges in 2002. 
According to The Wall Street Journal, after the indictments, Phillips stepped down from his prominent role managing day-to-day operations of BCM.
Phillips' family owned a company that tried to purchase the Tulsa, Okla.-based American Reserved Life Insurance Company in 1999. Despite warnings from state officials, Oklahoma Insurance Commissioner Carroll Fisher approved the purchase. An Oklahoma House of Representatives' committee investigated Fisher in 2004 for allegations of bribery. Fisher was found guilty of bribery for accepting gifts from Phillips and sentenced in 2009 to six months in a lock-down facility in Tulsa. Phillips, however, faced no charges and has denied bribing Fisher, who authorities said refused to cooperate.
The Oklahoman reported in 2009 that prosecutors accused Fisher of accepting cash and gifts from Phillips, family members and associates including $25,000 in post-election campaign contributions, $20,000 worth of office furniture, and a $25,000 check in an envelope marked "Merry Christmas." Fisher, a Democrat, claimed the check was a loan; he resigned in September 2004.
Today, attorney Cory defended Phillips' past by pointing to his achievements. "All you have to do is look at his track record, what he has done in the last 10 to 15 years. He has done huge projects in the United States and other countries; he has been a very successful developer," Cory said.
"I don't think it would be fair to look into the fact that he was acquitted of charges as an indication of his competence and expertise as a developer," Cory added. "There are people that are wrongly charged, unfortunately, in this country everyday, and those who can afford to defend themselves frequently, or ultimately, are found not to have done anything wrong, and I think that was the case with Gene."
The mayor plans to present the city's proposal for working with TCI-MS at an executive session before the 6 p.m. City Council meeting today. Mark Small has not returned calls for comment.
Also see:
Gene Phillips' website
Gene Phillips, Survivor (After the Bust) - Dallas Business Journal
July Acquits Gene Phillips, Cal Rossi - Dallas Business Journal
Real-Estate Magnate Gene Phillips Draws Investor's Ire for Dealings - Wall Street Journal
Update: The city released a statement (JPG, 733k) on details of the agreement at tonight's meeting. Follow jacksonfreepress.com for updates in the morning.
Previous Comments
ID

157870

Comment

All, Lacey has a lot packed into this story, and links that explain some of the more complicated points in more details. She's been working on this story for several months, and has more in the print edition tomorrow.

Author

DonnaLadd

Date

2010-05-18T16:59:49-06:00
ID

157871

Comment

I'd be more for this project if another developer were behind it. I find it hard to believe that no other company put in a bid for this, but that's just pure speculation on my part.

Author

golden eagle

Date

2010-05-18T17:15:17-06:00
ID

157872

Comment

And I agree with the tweet that the meeting needs to be open to the public.

Author

golden eagle

Date

2010-05-18T17:16:09-06:00
ID

157873

Comment

Golden, it was clear back in 2006 that Mr. Melton wanted Mr. Phillips to be involved in Jackson. I never really understood their relationship (other than that they were both from Texas), or why he was so bent on bringing in Mr. Phillips, but he sure wanted him here. Remember when he tried to give him the King Edward Hotel; not sure if Mr. Phillips wanted it or not, but Melton wanted to take it away from David Watkins, et al., and get Phillips to do it. He talked to me about that repeatedly. So under those circumstances, perhaps it isn't surprising that no one else put in a bid? And for what it's worth (and may be simply because they met him through the mayor), Melton's attorneys (Danks and Cory) now represent TCI.

Author

DonnaLadd

Date

2010-05-18T17:43:12-06:00
ID

157874

Comment

The only other thing I will say to everyone is that this is IMPORTANT. We could pay for these decisions for a long time to come, especially if we help pay for the hotel. Please pay attention.

Author

DonnaLadd

Date

2010-05-18T17:44:06-06:00
ID

157875

Comment

Donna this thing has been held up to long already, i applaud you for looking out for Jackson best interest but what other developers are waiting to turn dirt if this company withdraws. I think i would be more inclined to go with someone else if there was evidence of another developer in the waiting, with finacing already in place, architecture designs ready and bulldozers ready to go.

Author

NewJackson

Date

2010-05-18T18:19:34-06:00
ID

157876

Comment

I appreciate your concerns about needing a hotel, NewJack, but the city needs to take a long view. We say in our editorial tomorrow that we do not need more drama. Think long and hard about that as you read through the various links. Our city has a way of jumping into situations without enough information, or by glossing what is there. We really need to stop doing that because it tends not to work out for us.

Author

DonnaLadd

Date

2010-05-18T18:29:04-06:00
ID

157877

Comment

For a contrast to Lacey's story above, read what the Ledger is reporting today.

Author

DonnaLadd

Date

2010-05-18T18:34:45-06:00
ID

157878

Comment

All, note that Lacey just posted a PDF of the statement the city released after the executive session, saying what the agreement is. It says that the city has negotiated a "non-binding" agreement with TCI "to work with the city to finalize hotel capitalization" by using Urban Renewal Bonds issued through the city as tax-exempt GO-Zone bonds secured by hotel revenues. The city is getting rights back to the former Barefield Furniture and Firestone Stores in order to expand the convention center int he future. TCI pledges to hire minority contractors. And the hotel gets a $3 million HUD Katrina Community Development Block Grant issued through MDA for sewer, water and street infrastructure improvements. Of course, this all seems to be "non-binding." We'll be sorting all of this out in the next few days; keep an eye out. The citizens have the right to be involved with this and not have it sprung on us as a done deal.

Author

DonnaLadd

Date

2010-05-18T18:51:53-06:00
ID

157880

Comment

Simply outrageous that Harvey Johnson is proposing a bond deal of this size and planning to bypass the voice of Jackson voters in the process. These increment financing debt approaches are disasterous for Jackson's rapidly shrinking base of remaining taxpayers as they keep the eventually completed large projects effectively off the tax rolls for decades into the future. How contradictory that we have a city and downtown business leadership that on one hand expresses its significant discontent with the sheer number of tax exempt properties belonging to the State, non-profits and churches within its borders -- and the tax revenues constrictions that result from such an arrangement -- while, on the other hand, with deals such as the one proposed here city government itself proceeds with doing the exact same thing that will produce the exact same result. The downtown redevelopment effort has become a house of cards built on tax exemptions. Using the goodwill of Jackson taxpayers like this as collateral in order to be the lender of last resort for TCI-MS without seeking prior direct approval from the voters is unconscionable.

Author

GeoRoss

Date

2010-05-18T20:12:08-06:00
ID

157881

Comment

I can't say we disagree with you, GeoRoss. Well said. There has got to be a better, more transparent way to solve the convention-center hotel problem.

Author

DonnaLadd

Date

2010-05-18T21:47:11-06:00
ID

157882

Comment

Kudos to Mayor Johnson for trying to get this project back on track! If that hotel does not go up soon, the Convention Center will be in trouble. A declining Convention Center would jeopardize Farish St. and the King Edward. Please follow the law, but use all the tax credits (here's hoping we get enough tourism revenue to miss those taxes), secret meetings (out of respect for the city council), controversial (acquitted) developers you want. It's time to build the hotel.

Author

Jackson

Date

2010-05-18T22:06:20-06:00
ID

157885

Comment

Ater taking a look at the rendering in the Clarion ledger at what the Jackson Convention Center will look like once the project is completed, I'm gonna have to go with Harvey and NewJacks, our elected visionaries. They kno' mo' than we kno'.

Author

Walt

Date

2010-05-18T23:29:32-06:00
ID

157887

Comment

"Simply outrageous that Harvey Johnson is proposing a bond deal of this size and planning to bypass the voice of Jackson voters in the process." GeoRoss Wow....Imagine that...

Author

Queen601

Date

2010-05-19T07:49:17-06:00
ID

157888

Comment

Funny Walt!!

Author

NewJackson

Date

2010-05-19T08:17:15-06:00
ID

157889

Comment

I should add that it seems clear that the mayor is trying to deal with a difficult situation left for him, but that does not mean that all sorts of taxpayer incentives, etc., should be handed to Mr. Phillips' associates without a full public vetting. I really hate how the citizens of Jackson are so often left in the dark and then have to deal with the aftermath of situations. This is how it's always been here, and it needs to change. And, yes, we do need a hotel, Jackson. It's unfortunate that we seem to have only one choice -- and I suspect we can thank Frank Melton and friends for that. It's amazing to me, though, that you think that secret meetings are acceptable. I've been on the journalism block long enough to know that secret meetings always ended up biting you in the butt, either in the short or long term. Apparently, this deal is "non-binding" so far, so with any luck there is still time to build in public transparency on this. Perhaps a community meetings with all the players at the front to answer questions from the public?

Author

DonnaLadd

Date

2010-05-19T08:18:41-06:00
ID

157890

Comment

I agree with NewJackson that there is an unquestionable need for a major hotel adjacent to the convention center. The need for transparency is also urgent here. As proposed, the building itself appears largely undistinguished and I am not in favor of the proposed brand affiliation. Jackson needs something more than another Crowne Plaza. Recall that the owners of the Marriott decided to jettison CP in favor of Marriott as the brand was considered stronger. Public money is being used, so public input is needed.

Author

tombarnes

Date

2010-05-19T08:37:59-06:00
ID

157891

Comment

Thank you, Tom. This is our primary point. Of course, under the circumstances, the public may ask some tough questions, but that is our right.

Author

DonnaLadd

Date

2010-05-19T08:42:34-06:00
ID

157892

Comment

I agree Ladd if frank would have open up the initial process to more developers than we would have alternatives now ready to step in, that would at least be familiar with the project. I also think that the reason they cant secure full funding is because of their history and not just because the economy is the way it is. That also dosen't take away the fact that local banks seem hell bent on not lending to Jackson. I do think this thing can work out, we are getting land back and the mayor has negotiated what i hope is a good deal on behalf of the citizens of Jackson.

Author

NewJackson

Date

2010-05-19T10:49:44-06:00
ID

157893

Comment

Was the project scaled back becuase of financing issues, Im hearing 18 story and 16 story hotel. Did the negotiation change any plans.

Author

NewJackson

Date

2010-05-19T11:06:22-06:00
ID

157894

Comment

No doubt that this seems to be a legacy from Mr. Melton. I can't tell you how many times he told me that he wanted his friend Gene Phillips to come in and do big developments. Over and over again. He was courting them heavily. Getting land back is good, but that doesn't address all the concerns. I will say that Mr. Phillips and his associates seem to have access to a lot of capital if you click around his website and projects. As I understand it, people doing convention center hotels these days tend to assume that cities will pay much of the tab. Then if it's successful, it's good for the city. If it's not, the taxpayers take the hit.

Author

DonnaLadd

Date

2010-05-19T11:16:44-06:00