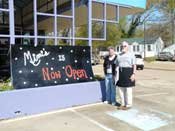 Some of Jackson's favorite restaurants may have been around for more than 50 years, but the food scene here is constantly growing. In the last six months, we have gained several dining options in and near downtown, some cuisines that are new to Jackson and, of course, more great southern food. Here are 10 new places worth checking out:
Jim and Linda "Mimi" Burwell have been in the Jackson restaurant business for 30 years. In March, they opened Mimi's Family & Friends (3139 N. State St., 601-366-6111) in a converted, art deco-style service station in Fondren. Mimi's breakfast features eggs, biscuits and Jim's fluffy cheese grits. The lunch menu offers some staples—like a pressed Cuban and a daily quiche—and alternating specials, including the popular pork or catfish tacos and the surprisingly spicy shrimp and grits.
The Burwells are always around to chat and check in on diners, between cooking and serving food, and a meal there feels, appropriately, like a visit with friends or family. Hours: 7 a.m. to 3 p.m., Monday through Saturday.
Rick Tucker, with his co-owners Gary Damon and Jimmy Shelton, wanted to give people in Jackson (including those who relocated here after Katrina) the New Orleans restaurant experience without the three-hour drive. Zydeco's chef, Charles Broad III, went to culinary school in New York City and has been cooking in New Orleans restaurants for 13 years. The menu items at Zydeco (6340 Ridgewood Court Drive, Ridgeland, 601-977-9920) range from po-boys to boudin balls to a pork porterhouse, with nothing more than $15. And the atmosphere is festive; there's a full bar, TVs tuned to sports and plenty of Mardi Gras and Saints paraphernalia. Hours: Monday, 11 a.m. to 10 p.m.; Tuesday through Saturday, 11 a.m to 2 a.m.; Sunday 10:30 a.m. to 10 p.m.
Taqueria Guanajuato (1651 Terry Road, 601-212-2256) is new to Jackson, but not new to the area—it moved to its current location from Richland in March. Guanajuato is owned and run by the Gonzales family, who are from Guanajuato, Mexico, and everything here is cooked in their home region's style. They offer tacos, tortas, quesadillas and soups—I especially recommend the al pastor (pork & pineapple) taco—and they go all out on the toppings, serving cilantro, onions, limes, two salsas, roasted green onions and roasted cactus with each taco order. Enjoy the cheerful décor and brush up on your Spanish with the soap operas often playing on the restaurant's TV. Hours: 10 a.m. to 9 p.m. every day
Most Jacksonians have heard of Al Stamps' burgers, which he's been selling at Cool Al's (formerly Stamps Superburgers) since 1998. Burgers and Blues, (1060 E. County Line Road, Suite 22, Ridgeland, 601-899-0038) a joint venture of Al Stamps and Steven Sahler, also features the famous Stamps burgers and fries, but that's where the similarities end. Unlike Cool Al's (which is still open and being run by Al's ex-wife, Kim), this is a full-service restaurant with a kitchen big enough for a quick turnaround on every made-to-order burger, and they serve several draft and bottled beers. The family-friendly restaurant also has an ice-cream bar, flat-screen TVs, a giant deck and live music. Check out one of the 14 specialty burgers, most of which are different from those at Cool Al's. Hours: Sunday through Thursday, 11 a.m. to 9 p.m.; Friday and Saturday, 11 a.m. to midnight.
Tom Cook grew up eating his mom's fried pies in Kentucky, but had almost forgotten about them after living in Jackson for 40 years. After becoming reacquainted with this delicacy while traveling in Oklahoma, Tom decided he had to have a fried pie shop of his own in Jackson. Tom's Original Fried Pies (255 E. McDowell Road, 601-655-4030) has a drive-up window, old-fashioned booths and stools inside, and offers almost 30 types of fried pie—including fruit pies (some sugar free), cream pies, breakfast pies and meat pies. I recommend the blackberry pie, but anything enfolded in Tom's crispy pocket of fried dough is bound to be good. Hours: 7 a.m. to 7 p.m., Monday through Saturday
Suniora Page opened Suniora's Sidewalk Café (200 S. Lamar St., 601-355-1955) downtown last fall. She serves an all-you-can-eat soul-food buffet, made entirely by her mother, for $10 ($5 on Wednesdays), and also offers an extensive salad bar, pizza and recently added breakfast. The restaurant is a sunny, pleasant place to eat in. Take advantage of multiple trips to the well-stocked buffet. The options include three meats and seven or eight veggies every day, such as the popular fried chicken and baked chicken, fried green tomatoes, rutabagas and other classics. Hours: 8 a.m. to 10 a.m. and 11 a.m. to 2 p.m., Monday through Friday.
Amos Polk's family does everything at Po-Polk's (4865 N. State St., Suite D, 601-366-2160), which opened in February. Amos, who has been in restaurant management for years, runs the place, while his mother, Mary, does the cooking and his niece works the register. Mary's soul-food plate lunches are $5.30 for a meat and two sides—try the smoky red beans and rice, and the yams that double as dessert. Amos says the "Po Burger" is one of his best sellers, which is no wonder considering it comes topped with fried onions and fried pickles. Hours: 10:30 a.m. to 4 p.m., Monday through Friday.
Rosemary Emmanuel, the owner and cook at Chitoes African Deli and Catering (1700 Terry Road, Suite 5, 769-233-7647), brings a new kind of cuisine to Jackson. She and her family moved here from Nigeria in 2003 and opened Chitoes this April, looking to fill a wide-open niche for African food in the area. Rosemary's son Fidelis, who helps run the restaurant and cook, says their most popular dish is the African Stew, which people try out of curiosity and then come back and get again. Chitoes has some of the most unique food in Jackson—I recommend the curried chicken and plantains—but they also offer fried chicken and fish for those looking for something more familiar. Hours: 11 a.m. to 10 p.m. Monday through Saturday.
William Lee "Chef" Kelly has been cooking since he was 7. At BBQ Fever, (5046 Parkway Drive, 601-957-1345) he arrives around 6 a.m. every day to prepare 15 to 20 items for the buffet before the restaurant opens at 11 a.m. The all-you-can-eat buffet ($8.99) includes eight to 10 vegetables, carefully arranged so that the colors complement each other, and about as many types of meat. Besides the buffet, BBQ Fever offers fried seafood and chicken, sandwiches and Chef Kelly's signature ribs. The restaurant may look like it did as a Chinese buffet in a previous incarnation, but Chef Kelly succeeds in giving the place its own personality. Hours: Monday through Saturday, 11 a.m. to 6 p.m.
Congress Street Bar & Grill (120 N Congress St., 601-968-0857) is downtown Jackson's newest restaurant and bar. It offers a New Orleans–themed menu that includes po boys, red beans and rice, pasta dishes, and several specialty burgers; at night the restaurant also serves appetizers in what owner Debbie Rankin (of the downtown Basil's next door) hopes will be a laid-back, neighborhood-bar atmosphere. Debbie's son, Nathan Glenn (of Rooster's and Basil's in Fondren) will make guest appearances on Thursday nights to cook a special, and Debbie hopes to eventually have live music some evenings. Hours: Monday through Friday, 11 a.m. to 9 p.m.
Previous Comments
ID

157848

Comment

Such wonderful new dining in Jackson! Jackie Warren Tatum

Author

J.T.

Date

2010-05-15T20:12:46-06:00