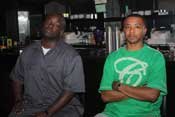 Located on the corner of Gallatin and West Capitol streets, Dreamz Jxn is a three-story club and entertainment complex in downtown Jackson with 25 plasma TV screens, VIP rooms, three bars and three dance floors.
The club opened April 2009, but gained new management in January to revamp its image. Dreamz is co-owned by Kwame Moore and managing partner Brad "Kamikaze" Franklin. The club hosts a diverse mix of events including a Monday night mixer for young professionals and "Centric Thursdays," a night of hip-hop and neo-soul hits for those 21 and older.
"Dreamz' new mission statement is to enhance the development that is going on in downtown Jackson and also to serve as an entertainment alternative to what Jacksonians have been used to," Franklin says. "We are a very much going to reach out to and embrace Jackson's diversity."
Franklin says his goal is to bring a broader population downtown, end the stereotype that Jackson is unsafe, and create a venue for all ages and races.
"We are very intent on being a huge part of the downtown renaissance," Franklin says, adding that Dreamz can accommodate just about any kind of event or party. "We have enough space for whatever it is that you need," he says. "We want to be here for downtown."
Franklin, who is also director of entertainment for Watkins Partners and a columnist for the Jackson Free Press, advises business owners to build a strong support system.
"Surround yourself (with) people who are much smarter than you are, who can be a buffer for you when you come up an idea—people who are not afraid to tell you no, or even afraid to come up with ideas better than yours," Franklin says. "You fail ultimately when you rely too much on yourself."
Dreamz Jxn is located at 426 W. Capitol St. For more information, call 601-979-3994, visit http://www.dreamzjxn.com or follow the club on twitter @newdreamzjxn.