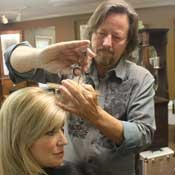 Raymond Vaughn, owner of Raymond's hair salon in Jackson, has more hair than he knows what do to with.
This week Vaughn, 55, teamed up with Matters of Trust, a non-profit organization collecting human and animal hair along with nylon stockings, to make booms for the oil spill in the Gulf of Mexico. Earlier this week, he put out a call for local salons to donate hair, and tomorrow, he will drive a truck to the Gulf Coast where volunteers will then stuff hair into nylon booms to absorb the oil.
"Nationwide, 450,000 pounds of hair is going to the coast," he says. "One pound of hair will absorb one quart of oil. In the U.S., There are 370,000 salons and 100,000 pet groomers. The average salon cuts one pound of hair a day. That's more than 370,000 pounds of hair that could be recycled."
Vaughn says that oil spills aren't the only use for hair. He has been recycling hair from his salon to make fertilizer for gardens but when he heard about the oil spill last week, he wanted to do all he could to help.
"I spent a lot of time on the Gulf Coast, and I've been around these shrimpers," Vaughn says. "I saw them struggle through the storm, then a recession, and then have this happen to them. It's just heartbreaking."
Since he started collecting hair last week from salons, he says the response has been overwhelming.
"The whole state is joining us in this cause, it's really been amazing," he says. "Hopefully, I'll have to call someone for a second truck tomorrow."
Raymond has been the owner of his salon for 30 years. A native of Jackson, he started cutting hair after graduating from high school. He lives in Jackson and part time on a ranch in Claiborne County.
Donate hair or nylons online or call 601-956-8161.