Wednesday, March 31, 2010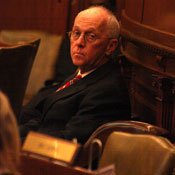 The Mississippi Legislature put budget negotiations on pause this weekend, with plans to reconvene April 20, when the state's revenue forecast will be clearer. The Senate and House of Representatives agreed Saturday to postpone the legislative session, as the U.S. Congress appears likely to pass an extension of the Medicaid assistance in the 2008 federal stimulus package by mid-April. The increased federal Medicaid contribution would free up $187 million in the state budget for other purposes.
The Senate has passed an appropriations bill that would dedicate an additional $50 million to K-12 education if Congress approves the extra Medicaid assistance, and Democrats in both chambers appear determined to use some of the new money to shore up education.
K-12 and higher education could receive $90 million of the additional federal funds, House Education Committee Chairman Cecil Brown, D-Jackson, said at a March 23 rally in support of education funding.
The planned postponement appeared in jeopardy, however, after House Republicans twice blocked a resolution necessary to extend the session, on March 23 and 24. The Republicans demanded a preliminary agreement from House and Senate budget negotiators on overall revenue for the 2011 fiscal year.
Leaders from both chambers eventually reached an agreement to carve a budget from overall anticipated revenues of $4.417 billion, plus $80 million from the state's rainy-day fund and $54 million from a tobacco settlement fund. In a victory for House Democrats, the conferees agreed to appropriate 100 percent of anticipated 2011 revenues. Gov. Haley Barbour had called on legislators to appropriate only 98 percent of anticipated revenues as a precaution.
Thursday also saw House Republicans propose two resolutions inspired by national politics. H.C. 73, sponsored by Rep. Steven Palazzo, R-Biloxi, would have reaffirmed the Tenth Amendment to the U.S. Constitution, which gives states sovereignty over powers not delegated to the federal government.
A second bill, H.C. 101 sponsored by Rep. Alex Monsour, R-Vicksburg, targeted Congress' recent passage of a health-care reform bill. Monsour's bill would have allowed representatives to vote on H.C. 17, which proposed a constitutional amendment prohibiting laws that would compel participation in "a health care system." Both bills lost on narrow votes.
On Friday, the House and Senate both approved the final version of a public-records bill, H.B. 113, which reduces the time public bodies have to respond to a public-records request from 14 days to 7 days. Sponsored by Rep. David Norquist, D-Cleveland, the bill originally focused on a separate issue: costs charged for public-records requests. Current state law allows public agencies to assess "reasonable" fees for retrieving and copying records, a vague standard that allows bodies to charge prohibitively high prices. The House passed a version of Norquist's bill March 8 that would have defined a "reasonable" copying cost at no more than 50 cents per page. It also would have required public bodies to charge for retrieval time based on the salary of the lowest-paid employee capable of filling the records request.
In conference committee, House negotiators dropped the cost limits and agreed to the Senate changes, which deal with response deadlines only.
Saturday, both chambers passed a compromise bill that would provide an avenue for creating charter schools in the state. The bill, S.B. 2293, allows parents of students at chronically failing schools to petition the state Board of Education for permission to become "conversion charter schools." If granted, conversion charter school status would require parents to form an elected "local management board." This board would function like a school board for the charter school, hiring a principal and approving curriculum. The local management board could also hire an outside agency, like a private charter-school operator, to run the school.
Unlike charter-school proposals sup-ported by the Senate and House Republicans, the final bill would not allow conversion charter schools to compete with traditional public schools for students. Conversion charter schools would only be open to students in the school's normal attendance zone. House Education Committee Chairman Cecil Brown, D-Jackson, said that opening charter schools to students outside an attendance zone could diminish funding for the traditional schools within a district.
"I don't know that we could afford that right now," Brown said. "The problem with open-enrollment charter schools is you're essentially starting another school within the school district. That's going to mean moving money away from existing schools … if the money follows the child."