Wednesday, March 31, 2010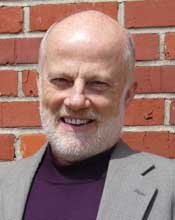 The soft-spoken, polite 60-year-old man enjoyed his homemade vanilla ice cream at the Fourth of July picnic in Crystal Springs. With his wry smile and informal stance, it was easy to see him as a former pastor. I had no idea when I met him two years ago that this avid runner is the president and chief executive officer of Voice of Calvary Ministries.
A transplant from Anderson, Ind., Reed is passionate about his home of 35 years where he and his wife, Marsha, have raised three children. Reed served as pastor at Voice of Calvary Ministries from 1976 to 1999. He and Marsha have stayed in Jackson at a time when it was popular for white families to move to the suburbs.
"Jackson is really changing; we are really growing as a city. Part of that is the re-opening of the King Edward Hotel, but it is other things, too. We have really done a lot in terms of racial reconciliation," he says.
Part of that change stems from organizations like Voice of Calvary Ministries. Working with Mission Mississippi and Habitat for Humanity, in the past 25 years the ministry has helped rebuild more than 200 homes. Using a holistic approach, they strive to provide the communities of Jackson with the services and supports needed to help neighborhoods become sustainable.
Voice of Calvary Ministries is currently working on a pilot program in south Jackson with Village and Commonwealth Apartments to bring 460 families above the poverty level. Voice of Calvary has also purchased nine houses in the Alta Woods subdivision and has contracts to restore four more. Habitat for Humanity will also work in the area.
"By partnering with Habitat for Humanity, we can all work and have a bigger impact on the neighborhood," Reed says.
Reed stresses that none of the work has been a solo effort. Current projects include collaborations with the United Methodist Church, Jackson Medical Mall and Hinds Community College.
Twenty-seven years ago, Voice of Calvary Ministries also helped to start the Haiti Christian Development Fund, with the help of Haitian Jean Thomas in Fond-des-Blancs. Located 60 miles south of Port-au-Prince, it provides immediate and long-term solutions to the problems facing the impoverished nation. Their projects include reforestation, providing clean water, and opening a hospital and a school. Recent efforts focused on helping victims of the earthquake. Thomas was able to recruit three orthopedic surgeons to help mend broken bones.
People came over from Port-au-Prince with literally the clothes on their backs," Reed says. "Our strength, as we see it, is going to be in the rebuilding of lives."