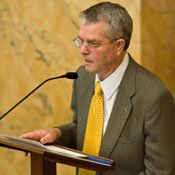 Last week was all about passing budget bills, with the House and Senate considering a huge list of appropriation legislation funding various state agencies. One bill that didn't survive the governor's veto was a reconciliation bill returning about $79 million in cut funds to the Mississippi Adequate Education Program and some district attorney offices around the state.
Gov. Haley Barbour vetoed the bill last week, saying that the state needed to prepare itself for continuing low tax revenue by cutting programs rather than tapping state savings. The Senate attempted a veto override, but the 30-to-21 vote fell below the 34 votes needed.
Nancy Loome, executive director of The Parents' Campaign, a K-12 education lobbying group, called for supporters to put pressure on legislators to pass Senate Bill 2495, which she described as "perhaps our last hope of getting some funding restored to schools."
The bill originally granted the state fiscal officer the authority to make selective reductions in the budgets of state agencies in an amount not to exceed 10 percent, and required all reductions to be uniform to all state agencies. However, the bill took on a few amendments this month protecting the State Department of Education and MAEP from reduction, as well as junior colleges and universities.
Senate Bill 2495 went to a conference committee containing Reps. Johnny Stringer, D-Montrose, Cecil Brown, D-Jackson, and George Flaggs, D-Vicksburg, as well as Sens. Alan Nunnelee, R-Tupelo, Doug Davis, R-Hernando, and Terry Burton, R-Newton. The conferees have yet to meet.
The ability of legislators to get their heads together on this and other budget issues may prove difficult. House Speaker Billy McCoy showed outrage at Senate members' unwillingness to approach the table to restore funding for education and other agencies on Friday.
"It's unbelievable that the governor and a handful of senators appear hell bent on further eroding education, mental health, our community colleges, and even dip into other funds for the sake of criminals housed in county and state facilities," McCoy said in a statement, adding that the House plan to restore some funding would "help agencies limp through the current fiscal year."
Hinds County Sheriff Malcolm McMillin said he fears Mississippi Department of Corrections will likely begin pulling prisoners out of county work programs to cut costs if budget cuts prevail, delivering a particularly hard hit to Hinds County, which makes heavy use of prisoner work programs.
"We're already saving the state money through the work program, and if we lose the work programs, then the number of work hours these minimum-security prisoners at places like Red Cross, the Community Stewpot, and all the cleaning in curbs and street gutters and litter pick-up simply won't get done," McMillin said.
State sheriffs are attempting to lobby the governor and legislators to preserve MDOC and, by extension, the work programs.
Legislators have yet to fully work out the issue with funding fiscal year 2011, however, and have only one month left to complete a budget for 2011, which begins July 1.
The House passed HB 1688 last week, a bill that provides $300 million in bonds for highway, road and bridge projects across the state. The bill expands road projects around the proposed Toyota plant in Northeast Mississippi, and includes an expansion of U.S. 61 from Leland to Vicksburg. A highway bill similar in scope to HB 1688 died in the Senate last year.
A similar fate may befall HB 1674, which offers a $2,000-per-job tax credit for the cut-and-sew manufacturing industry in Northeast Mississippi "in an effort to save it," according to the House. Barbour vetoed the same industry-relief bill last year, and may inform Senate leaders to let the bill die this year to save him the embarrassment of turning aside industry aid a second time.
In addition to some appropriation bills, the Senate passed SB 2849, an act that authorizes the establishment of regional recycling centers at regional correctional facilities and provides a solid waste assistance fund to local governments that they may use to establish regional recycling centers.
HB 536 may not survive Senate Insurance Committee Chairman Eugene Clark, R-Hollandale. The bill requires nursing homes to purchase and maintain a certain minimum amount of liability insurance. Clark did not immediately return calls, but he let similar legislation die in his committee last year, despite the pleas of the Mississippi Coalition for Citizens with Disabilities.
"We need to protect Mississippi's citizens with disabilities and seniors who are residents of nursing homes. We cannot turn our back on this vulnerable population and their families, who place their lives in the care of these companies," said Mississippi Coalition for Citizens with Disabilities Executive Director Mary Troupe, adding that the insurance requirement would provide more accountability for nursing-home care.
Many Republicans in both the House and Senate favor the bill, but opponents may be responding to fears by the nursing-home lobby that the bill could pave the way for increased costs to nursing homes and could open the door to litigation against health institutions that opt out of the coverage.