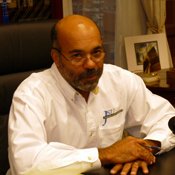 Jackson State University President Ronald Mason Jr. predicted hard times for Mississippi's historically black universities if the schools don't work together. "When you confront the kind of problems that we're confronting, and when you take into account that we don't have the kind of cushion in our budgets that other universities have to handle these cuts, then you can envision the gap getting bigger and bigger and bigger," Mason said at a press conference this afternoon. "And the bigger the gap gets, the less able we are to survive in an increasingly competitive environment."
Mason added that Mississippi could be forced to close an HBCU in the current economic climate. "I'm afraid anything is possible in this dynamic environment," Mason said, responding to rampant criticism over his proposal to downsize and combine Alcorn State University, Mississippi Valley State University and Jackson State University into specialized campuses united under the name Jacobs State University.
Mason's proposal, designed to contend with "draconian" budget cuts over the next two years, calls for making Jackson State University into a college specializing in liberal arts and science graduate degrees. Under the same plan, Valley would become Mississippi Valley College, and would specialize in "service learning," while Alcorn University, would become "Alcorn College," a facility for traditional degrees.
The JSU president said he only sent one copy of the proposal to Legislative Black Caucus Chairman Billy Broomfield, D-Moss Point, but black legislators exploded at the proposal, which many say reduces universities like Alcorn to a remedial college. Others say the proposal would kill years of tradition and history at Alcorn and Valley by essentially making them an offshoot of Jackson State University.
Earlier this week, Sen. David Jordan, D-Greenwood, likened Mason to "a Philistine," warning that the JSU president appeared to be joining forces with Republican Gov. Haley Barbour, who advocated the merger of the same three black universities to save the state $35 million.
Mason says he is not advocating for the merger, but says a conversation needs to take place to discuss to keeping the HBCUs alive.
"What I'm advocating for is to have the conversation. (Black universities) don't have the foundation that the larger schools have," Mason said. I really think that we have challenges that will be difficult to face as individual institutions. Candidly, I think one strong HBCU is better than three weak ones, and I think Mississippi should have 'the big four' instead of 'the big three,' and the fourth one should serve to lift up black people in Mississippi."
Rep. Credell Calhoun, D-Jackson, told the Jackson Free Press this afternoon that HBCUs should be able to weather the economic storm without having to merge.
"One of the greatest attributes of black universities in Mississippi is their accessibility. I went to a black university, and my wife went to a black university. A lot of elected officials went to HBCUs across the state. If you combine them, you remove some of that access," Calhoun said. "At this point in our history we can handle it. The economy should turn around, and the funding should come back."
Jordan agreed with Calhoun, saying Mason's "logic might be good, but his reason ain't worth a damn."
"Mason can't be a spokesman for more than 1 million African Americans in Mississippi," Jordan said. "How can he come here and say what's best for us?"
Previous Comments
ID

155638

Comment

This reminds me of some of the things Naomi Kline describes in her book the Shock Doctrine. Something tells me this plan was on the table way before the economic crises.

Author

dd39203

Date

2010-01-30T12:31:53-06:00
ID

155640

Comment

dd I agree with you and so do many of Jackson State alums and students it just seems like he came up with it a little too easily. But you know if you can yell crisis loud enough and keep people in a panic they will fall for anything and I think that's what they want vs. looking at other viable ways to sustain and sure up these institutions.

Author

multiculturegirl

Date

2010-01-30T13:52:04-06:00
ID

155645

Comment

Wow, you all must be really young, I am jealous. I remember an almost identical proposal being floated about 20 years ago, in the mid-80's. And it included merging the W and Delta State into MSU. So yes, this idea has been around for decades. Now, JSU is in a position to present the plan to its own advantage. I can remember that one of the proposed settlements to the Ayers case involved the same mergers and the opening of a law and/or osteopathic medical school at JSU. The main advantage of merging the colleges in my eyes is the elimination of several very expensive adminstrative positions. I do not think a merger would entail elimination of the cherished football teams, etc. If the alums are against the merger; put your money where your mouths are and raise an endowment for the small HBCU's. Then, the Colleges will be in a position to better determine their fate. A College with little alum support is not going to survive these coming times. Tuition can only go so high before the mission of the HBCU's becomes counterproductive (i.e. they are financially inaccessible to the population they seek to serve).

Author

revdrstewart

Date

2010-02-01T09:03:26-06:00