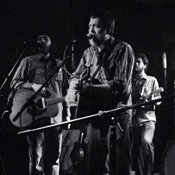 Musicians are a bit like objects in space. Give them a particular orbit with which to hang around, and eventually they bounce off of each other. Sometimes, these cosmic particles stick together, drawn by gravity into bands. And sometimes, these bands bump into other bands, giving way to an all new creation...bound together by the magic ties of the universe: the "supergroup." Horse Trailer is such a collaboration, formed with members of some of Jackson's most talented groups. And like any supergroup, they succeed most when they are not just individual artists taking turns at the mike, but when common purpose and love...that gravity... slings them forward on the same course like a comet streaking across the sky. Composed of many pieces, but greater than the sum of its parts...able to let those individual parts shine brightly, but never more brightly than the whole.
Horse Trailer is composed of singer/guitarist Taylor Hildebrand and drummer Dave Hutchinson of Passenger Jones; singer/guitarist Johnny Bertram and mandoliner Jamie Weems of Johnny Bertram and The Golden Bicycles (Weems also plays with Wooden Finger, and The Scramblers); singer/guitarist Tommy Bryan Ledford of The Taylor Grocery Band; and the dynamic standup playing of bassist Valley Gordon of Dixie Nationals/Hot Tamales/Scramblers fame. Each member brings much to the table, as their pedigrees attest, allowing Horse Trailer to be a band that is deep and textured at every position. And the experience gives this relatively new band the ability to gel quickly, growing tighter and stronger. In fact, this was observable over the course of the evening.
Ledford began the set with Taylor Grocery Band's Jericho Road, and it served its purpose well as a starter. The song's driving rhythm got the juices pumping like the wheels of the train the song refers to. Ledford's voice is appropriately traditional for the style, and complements the group's more indie-folk counterpoints well. Bertram followed with Lonesome Road, a rootsy swing with tones of Elliot Smith, Gram Parsons and Neil Young. Bertram displayed a clarity in tone that echoed through the Fondren streets, lending a smoothness to the set. Hidebrand, not to be outdone, brought Clouds Fighting, a Passenger Jones tune, whose signature chorus "You don't ever come around" has a soul at play that recalls The Swell Season's Glen Hansard.
These songs, while good in their own right, tended to feature a single artist's style, as they took turns performing songs they've done in their respective bands. While not a bad thing, functioning as an introduction to the cast, the real magic of the set occurred when the singers stepped aside and Horse Trailer stepped forward. The jam that followed, appropriately called Horse Trailer Breakdown, really showcased their excellent musicianship and cohesiveness. Mandoliner Jamie Weems would particularly shine in these moments, recalling Chris Thile's less bluegrassy numbers with his skill and improvisation. This jam seemed to ignite something in the band as the following songs brought the singers together in harmonies that had only been hinted at before, and a tighter performance as a whole. Horse trailer had found its orbit, and was picking up speed. As the set came to a close, the earlier gospel leanings reached their logical fruition. As Bertram sang "you can't take my joy away from me…I'll put on my white robes and sing along", eyes and hearts were lifted up as the chorus bled into the gospel hymnal, Leaning on The Everlasting Arms. The band, not to end on too serious a note, broke into one last jam to say goodnight to the enthusiastic crowd.
Soon folks were paying their tabs or shuffling home, and I came to a realization that Horse Trailer had only just begun its journey. This band is good already, make no mistake, but It's exciting to think about the potential that could be realized when the band writes more material together...of when Bertram, Ledford, and Hildebrand join voices together in harmony, lifting each other up as a single instrument...of Weems gracefully dancing notes around the melodies while Gordon and Hutchinson are locked together in razor-sharp rhythm. That gravity is taking hold, making the bonds tighter. And when they have finally reached that perfect unison, Jackson will have a group truly worthy of being called super.
Horse Trailer plays Hal & Mal's Red Room Saturday, January 30th.
Chris Nolen is an art director and writer in Jackson, MS
noleofantastico.com