Thursday, January 21, 2010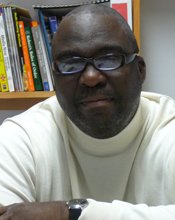 As a journalism professor, Eric Stringfellow, 49, is never far away from a newspaper. As he works on his computer, a stack of papers accompanies him.
Stringfellow is a native of Meridian but has lived in Jackson since he was 8. After graduating from Provine High School, he received a bachelor's degree in mass communication in 1982 and a master's in 1997 in urban communication, both from Jackson State University. He is married to Dr. Rachel Jones and has a son, Courtney. After receiving his bachelor's degree, Stringfellow began his journalism career with The Clarion-Ledger. He says that his favorite stories revolved around the city's changing government. During his career, he has reported on the first elected blacks in 1984, Mayor Harvey Johnson Jr.'s first term, Dale Danks' last term in office and former Mayor Frank Melton. And although Stringfellow left the Ledger in 2007, he still occasionally writes a column for the paper.
In 1991, Stringfellow became a journalism professor at JSU, and in 2003 he moved to Tougaloo College, where he serves as a journalism professor and chairman of the mass communications department. Stringfellow strives to be a positive influence for his students. "The role of mentor, I really take that seriously. The difference between working at IBM and McDonalds is that much guidance," Stringfellow says, making a small space between his hands. He enjoys seeing the changes in their lives. "It's an immediate impact," he says.
Teaching journalism today requires a strong vision of the future and Stringfellow places emphasis on teaching aspects of multimedia journalism.
"The skill set might change, but there will always be a market for news," he says. "Printed newspapers may go away at some point, but we still need someone go to out and collect the news."
Speaking of Jackson, Stringfellow believes some of the problems for the city have to do with perception. The Jackson Public Schools system, for example, should do more to promote the good things that are going on. "I believe that Jackson can make a complete comeback … and be one of the greatest cities in America," he says. He also thinks that Jackson needs to do a better job supporting the city's housing market. "We need strong neighborhoods. West Jackson is one of the best-kept secrets in this city," Stringfellow says.
When talking about the future of Jackson, Stringfellow sees himself in the picture. "I would like to look back 20 years from now and know that I was a part of the solution, " he says.