Friday, February 19, 2010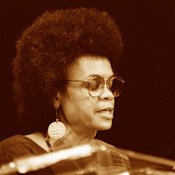 Sonia Sanchez stands with confidence, petite in stature with her natural dreadlocks hanging just below her shoulder. Her voice is strong, not in its volume, but in the passion and conviction that oozes from the words she speaks: "Our vision is our voice ... we are people made of fire ... give me courage so I can spread it over my face and mouth ..."
This free-verse poem entitled "An Anthem" first appeared in Sanchez's 1987 book "Under a Soprano Sky" and then again in 1999 in "Shake Loose My Skin." This poem celebrates the African culture and challenges all to seek peace and compassion in dealing with the problems of this world.
The words "our vision is our voice" evokes a sense of unity, a vital component necessary for any true change to happen.
Author, poet, professor and activist Sanchez, 76, is a key member of the Black Arts Movement and a prominent figure of the civil rights era.
In the early 1960s, Sanchez was an avid integrationist and a member of the New York City chapter of the Congress of Racial Equality. However, her thoughts and writing style changed because of the words of civil rights leader Malcolm X.
Sanchez's poems began to focus on portraying black heritage and history through a separatist lens. The separatist movement strives for autonomy and preservation and improvement of a particular group of oppressed individuals. After Malcolm X's assassination in 1965, she wrote "Malcolm," a poem lamenting the loss of the civil rights leader.
Sanchez assisted with the blooming Black Arts Movement while studying poetry at New York University. She formed a writer's guild in Greenwich Village and was a member of the Broadside Quartet, a group of young poets in the area.
In 1968, Sanchez moved to San Francisco to teach at San Francisco State University. While she was there, she developed the black-studies curriculum for the school and encouraged the development of black-studies programs throughout the state.
She also taught the first class on black women in 1969 at the University of Pittsburgh.
Sanchez, came into this world as Wilsonia Benita Driver, born in Birmingham, Ala., in 1934. Her mother died when she was an infant, so she lived with her grandparents until 1943. In 1943, Sanchez moved to Harlem, N.Y., to live with her father.
She earned her bachelor's degree in political science in 1955 from Hunter College in New York City. Sanchez went on to study poetry at New York University.
Sanchez has written six plays, three children's books and 16 books of poetry. She has also taught at eight different colleges and universities. Sanchez currently lives in Philadelphia, Pa., and is the poet-in-residence at Temple University.
This Saturday, Sanchez will speak at the Malcolm X memorial program at Word and Worship Church (6286 Hanging Moss Road). The program begins at 3 p.m., with a book signing by Sanchez at 2 p.m. For more information, call 601-353-5566.