Wednesday, February 10, 2010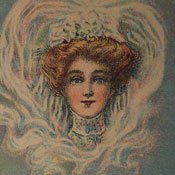 "I just want to find my soulmate.
"Gee, I hope I find Mr. Right soon."
"I wanna find someone who'll follow me to the jumpin' off place" as my friend's grandparents used to say.
Haven't we all been a little optimistic that maybe, just maybe, that "someone special" is out there, just for us? Our "plus one"? I guess getting older and hearing my biological clock ticking loudly, as well as seeing my once-single friends haul their Vera Wang-wearing tails into the sunset with some fabulous man in a major love whoopass (thanks, Malcolm White), I can't help but wonder if there's anyone for yours truly. So, in fall 2009, I began my benevolent, inconspicuous and infallible quest for heterosexual companionship.
I met a man through friends who seemed to be "intrigued" with me, and asked me out. I half-heartedly agreed to go out with him, only because it had been forever since anyone had asked me out. We met at a local restaurant franchise, where he started right out of the gate being sexually inappropriate, paying for our meal with a coupon, then saying, "There's plenty more where these came from, darling."
Ugh.
As soon as the date was over, I called to tell my neighbors about what a horrific night I'd had, and they invited me over with open arms and an open bar. With the suggestion of my fab neighbors, Tom and Kitty Ramsey, I decided not only would I blog about my dating misadventures, but I would set out to go on 100 dates in a calendar year and blog about every date, both the good and the bad. So far, since September 2009, I have been on 57 dates and man, what a long strange love trip it's been.
I have met some great guys on my journey for heterosexual companionship, but have also met some real duds. For instance, I had one guy on the third date ask me if he could stick his finger in my vagina. I also had a prominent realtor in the Jackson metro area send me a video of him shaking his "hoorah stick" with his parents' Olan Mills church directory picture in the background. I also went out with a guy who, within 15 minutes of meeting, told me about his four failed marriages, four DUIs (he got two in 2009), and his two failed stints at rehab, before trying to kiss me.
I also went out with a guy whom I thought was gay. My favorite gay friends advised me to give him the "Gay Aptitude" test (I'll be more than happy to share this with you if we ever meet), upon which, sadly, he made a 70—barely passing by my standards, so he had to go. On my blog "A Long Shot At Love", I even play a song for the guys that just don't make the cut: The Gap Band's "You Dropped The Bomb On Me."
My quest for Mr. Right hasn't been without some heartache. I met "Holy Grail" in October, and he totally took the wind out of my sails. He was what I call an "Educated Bubba": he lived in the country but had a master's degree; he can skin a deer and write a thesis. When he called it off, I was totally heartbroken. I mean, I thought he was The One. And there have been a couple of other men that I thought might be a potential suitor, but instead they gave me the dreaded "F" word speech: "let's just be friends."
My quest for a major love whoopass hasn't been easy. Dating and love is both hell and grand, all in one. There's no even keel. While getting rid of the obvious Mr. Wrongs, it's been kind of hard to dust off my britches and get back out there after so many disappointments. After the last friend's speech I decided I was done with trying to find a decent guy, but my friends, blog followers, and Facebook fans wouldn't hear of me quitting and encouraged me. I am forever thankful for these newfound reluctant life coaches.
Friends ask me what I've learned from my whole experience, and I have to say the most important things I've learned is to just be yourself and trust your gut instincts when dating. No one likes fake, and if you're putting on a dog-and-pony show just to get some poor sucker to like you, you only set yourself up for failure (done it, didn't get the T-shirt.) Plus by being yourself, you weed out the jerks and other "sundry folk" that happen to be in the dating pool along with you.
My anthropological study has not only helped me, but I think it has helped others, too. I've had women and men give me some great advice while also seeking mine. My "dating panel of expertsԗmen, women, straight and gay—have been supportive and also protective of me. And I can't tell you how awesome it is to have such a safety net of support.
Putting myself out there and being so proactive was tough at first; it still is tough. But I refuse to give up on finding the right person for me, whether it takes 100 dates or a 1,000. So, if any of you fellas out there think I'm the woman for you, holla at me. But please, baby please, no videos.
Follow Long Shot's quest for heterosexual companionship at http://alongshotatlove.blogspot.com.
Previous Comments
ID

156002

Comment

This is top notch. Truth just spills out of this piece. As a much older woman who has decided to decide to be more obviously open to the opposite sex, again, after a long dry spell, and is at least considering the idea of a significant other in my very busy life--if he ever shows up--I want to congratulate you for the vulnerability it took to write this and for the wisdom it imparts. Plus, your sense of humor is fine! I say we form a support group.

Author

J.T.

Date

2010-02-12T16:43:07-06:00
ID

156014

Comment

I heart Tom & Kitty Ramsey!!! They so Rock!

Author

Queen601

Date

2010-02-15T07:48:42-06:00
ID

156034

Comment

Queen - We heart you too! Drag that man of yours over one night and we'll invite the author to come join us on the deck. - Tom

Author

Tom Ramsey

Date

2010-02-15T18:33:15-06:00
ID

156040

Comment

A work in progress....I'm on it Tom!

Author

Queen601

Date

2010-02-16T08:40:16-06:00
ID

156043

Comment

I'm no expert, but I say seek perfection. You know what you want. You've had enough bad relationships to know what will work for you. Don't settle for anything less than what is perfect for you. That doesn't mean the guy can't have faults, it just means that you love those faults too. It doesn't mean you won't disagree and argue; even the best relationships have knock down drag out arguements. Who wants to be with someone who agrees with everything you say???? Seek perfection in that you find the person who is right for you. There is but one you and you deserve to have the perfect person FOR YOU!!!! Or better yet....don't look at all....let love find you!!!!! Just my two cents....enjoy the ride!

Author

Queen601

Date

2010-02-16T11:39:28-06:00
ID

156045

Comment

Queen601, spoken like a woman who has now been lucky in love. :)

Author

J.T.

Date

2010-02-16T12:25:10-06:00
ID

156050

Comment

Okay....what you said....baquan.... Long shot, I suggest you find the answer to whatever questions you may have about love from within. No one can tell you what's right and we definetely can't tell you what love is to you. Therefore, once you recognize what you need and want from your partner...you shall have it. Simple. JT...I don't believe in luck. I have found love because it was time and I deserve it!!!!

Author

Queen601

Date

2010-02-16T13:06:24-06:00
ID

156067

Comment

Love is 'spose to be both good to you and good for you. Love that is hell is dumb love that is supposed to be run from. Only people I'm supposed to be responsible for like children or grandchildren, relatives or close friends will get me to tolerate dumb love. Otherwise, I'm gone in pursuit of real love or a grand alternative that causes less pain and more pleasure and peace.

Author

Walt

Date

2010-02-16T18:26:03-06:00