Wednesday, February 10, 2010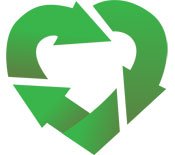 The old standby of flowers and candy can get old. Guys, as impossible as it sounds, even women can get sick of chocolate. And whether your beloved is trying to reduce her carbon footprint or you are looking for something different this Valentine's Day, going green can keep it interesting.
Hit Jackson's resale and vintage shops to find unique treasures. Consignment shopping is a fabulous way to go. I found a groovy purple picture frame at Orange Peel in Fondren (3026 N. State Street, 601-364-9977). With a little glitter, gloss sealer and paint, you can make a unique gift "from the heart" for that special girl. If jewelry is more your girl's style, consignment shops are a great way to find one-of-a-kind baubles. You can even get her a gift certificate and take her for a day of bargain hunting.
Another tip to keep it green is to shop for fair trade or organic items. Rainbow Fair Trade (2807 Old Canton Rd., Suite A, 601-987-0002) has a wide variety of gifts ranging from candles to jewelry. All the merchandise is fair-trade-certified, meaning that the producers of the items are fairly compensated and not exploited, and it's not the usual bric-a-brac you would find at a big-box store. Spice up that romance with a locally made beeswax candle, or pick up a scarf to keep your sweetie warm. They also have some cool handmade Valentine decorations from Tibet (link).
Head next door to Rainbow Whole Foods (601-366-1602) to find organic foods and gifts. Whether it's chocolate, cookies or coffee, Rainbow offers a variety of organic foods sure to impress. Pack organic snacks into a reusable shopping bag for a romantic picnic for two. Or buy the ingredients for a special Valentine's Day dinner and then promise to cook for her.
If none of these ideas are up your alley, try some of these tips: Buying jewelry from a store? Skip the bag. Clerks will put it in a box for you, so just pocket your receipt and leave the bag there. If you bought a gift bag for your treasures, have the cashier put your purchases into the gift bag instead of the plastic store bag.
Keep a look out for additional green Valentine ideas. Whether you recycle vintage finds, or go organic or fair trade, there are plenty of ways to do red the green way.