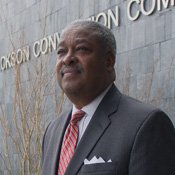 The uncertain future of JATRAN will become a bit more certain this afternoon when Mayor Harvey Johnson Jr. unveils 16 new JATRAN buses at a 1:30 p.m. press conference.
City spokesman Chris Mims said the city was able to purchase the new buses with a Federal Transit Administration grant made up of 85 percent in federal dollars with a match from the city. Mims said the city applied for the grant in 2008 and ordered the vehicles in 2009. The new buses will be in service by the end of the week.
The new fleet includes 13 30-foot buses costing $1.4 million and three 27-foot buses totaling $270,579 with handilift services for disabled citizens. Currently, JATRAN has 42 buses in total.
"These buses will replace the buses in JATRAN's existing Fleet that have reached the end of their useful life, mileage and age," Mims said. "It will certainly improve the reliability of service."
Mims said the grant doesn't cover operational costs, which is where concern lies for future JATRAN funding. Last year the city held a public hearing about the possible need to cut bus routes because of insufficient funds. Last July the city council voted to approve a $1.2 million budget transfer from the city's general fund last July, and in August, Johnson transferred $4.2 million again to save JATRAN. With a 14 percent decline in the city's sales-tax revenue, future funding for the city's bus remains in question.
"The administration is currently in the process of looking at the (JATRAN) budget and the city budget," Mims said.
The city council will vote on the budget for fiscal year 2010-2011 on Sept. 15
Previous Comments
ID

155819

Comment

One crucial element is increasing ridership. How do you make mass transit appealing? You need a regional transit authority to transport people from neighboring areas to work and other events in the city.... but I think I know why we don't have a regional transit authority.....

Author

lanier77

Date

2010-02-08T14:39:37-06:00
ID

155820

Comment

Lanier...excellent point. And it really is about work; we hear constantly about the jobs created by new mall development or new big box retail; but the bulk of that development is happening OUTSIDE Jackson's public transportation service area. Which means anyone who *might* be able to get a leg-up working those hourly wage jobs is going to have that mitigated by their need to own, insure and maintain an automobile, particularly if they already have a home in the heart of the city.

Author

Todd Stauffer

Date

2010-02-08T14:57:01-06:00
ID

155822

Comment

Needed hourly express service between the airport and Union Station downtown is pretty much a no-brainer. Think about it: How many "International" airports have absolutely NO local public transportation beyond taxicabs?

Author

ed inman

Date

2010-02-08T15:19:03-06:00
ID

155823

Comment

I would behoove the mayor to reach out to other communities about expanding JATRAN, though suburbs do have a tendency of being resistant to public transportation.

Author

golden eagle

Date

2010-02-08T16:54:01-06:00
ID

155838

Comment

It's just good hearing about grants being written and funded for a change. I'll use today to celebrate as the Mayor and Council go about the business of travel routes to sustain the operation to include access for people who are in need of this type of transportation. With the increase of gasoline prices, even people with cars will be considering mass transit. I will.

Author

justjess

Date

2010-02-09T09:50:41-06:00
ID

155839

Comment

agreed justjess. Maybe buses aren't as sexy as crime raids with badges and guns, but it's great to see they mayor working to meet city needs. I'd love to see more buses, and more bicycles. I've heard rumors about a planned lightrail over the next 15 years connecting the airport with downtown and then a metro loop with stops in Madison, Clinton, and Brandon.

Author

Izzy

Date

2010-02-09T10:31:22-06:00
ID

155844

Comment

WOW IZZY, that would be great!

Author

justjess

Date

2010-02-09T10:59:50-06:00