Wednesday, December 15, 2010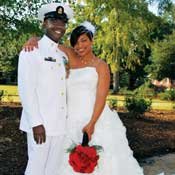 Newlyweds Psonya and Timothy Hackett have different accounts of their first encounter at the Jackson County Courthouse in Pascagoula in 2004.
She recalls seeing an attractive man in military dress blues sitting on a nearby bench and staring at her as she waited outside one of the courtrooms. Psonya (the P is silent) is an attorney with the Supreme Court of Mississippi and has been practicing law for 11 years.
"Do I know you from somewhere?" she asked, giving him her card.
"Nope," he replied. "I don't think I know you."
Timothy was amused because she had used the oldest line in the book, but he was interested. The way he tells it, Psonya started their small talk as an excuse to meet him.
"Six years later, the dress blues still work on her," Timothy says of Psonya's immediate attraction to him, a man in uniform.
This playfulness has kept the couple strong as they maintain their long-distance relationship. When Timothy and Psonya first met, they lived on the Mississippi Gulf Coast. Three months later, he transferred to Virginia and then stayed at sea for three years. Their son, Aiden, was born in 2004.
He says the hardest part about being away from her was not being there to support her decision-making.
"When situations—troubles—at home were happening she had to make tough decisions without me, especially when it came to raising our son," he said.
Timothy, 41, is a retired U.S. Navy senior chief. He served in the military 21 years before the couple got engaged. At the time, the Navy gave Tim the choice of reassignment to California or another stint overseas. He retired instead, and works as a high school and college basketball official.
"I didn't want to move all of them so far away from both of our families," he said. "... I didn't want to uproot her and (our) son. ... I wanted her to continue her career and all the things she had going in Jackson."
He loved the Navy, but he also knew this was a sacrifice he could make for his family's sake.
His mother, now deceased, raised him near Tulsa, Okla. After two years of college, he joined the Navy in 1989, earning a bachelor's degree in human resources while in the service.
Psonya, 36, grew up in Moss Point. After high-school graduation, she moved to Jackson to attend Tougaloo College, receiving a bachelor's degree in political science in 1996. She earned her law degree from the University of Mississippi and passed the bar in 1999. Psonya's original career goal was broadcast journalism, but one of her Tougaloo professors steered her toward law school.
"I'm not your typical courtroom lawyer. I did that for a long time," she says. "I'm more behind the scenes. I love this job because it allows me to practice law. ... I read things; I write things; I analyze things; and I still give advice."
Psonya moved back to Jackson in 2005 while Timothy was in Virginia and remained here even after he was transferred to Memphis in 2007. Spending the early years of their relationship apart may have been difficult, but they learned the art of communication.
"When he went to Virginia, he was on sea duty. ... Whenever the ship was at sea, we couldn't talk. But we could always e-mail. I had a rule that I would send him a 'good morning' e-mail every day, so when he woke up in the morning, no matter where he was, he would always have an e-mail from me," she says.
Moving near enough to see each other often changed the dynamic; they had to learn how to be close. The couple had to re-learn to be friends, make decisions together and co-parent Nadia, 17 (Timothy's daughter from a previous marriage), and Aidan, 6.
"When Timothy was at sea, I had to make all the decisions here at home. Then, upon his return, he had his own ideas, and it was a big adjustment," she says.
Timothy adds: "She had been the mom and dad for so long; it was kind of difficult. The biggest adjustment was not invading her space, giving her the opportunity to relinquish some of the fatherly duties to me."
Psonya and Timothy took time to learn about each other and plan their goals. It might have taken longer and they both had to make sacrifices, but in the end, they did it their way.
"The biggest thing I learned about Psonya is how committed she is to family and to me ... her commitment to me was amazing and her patience while she allowed me to complete my Navy career," he says.
In December 2009, after six years of dating and co-parenting, Timothy asked Psonya to marry him. On Christmas day, he presented her with one of her favorite snacks: M&M's.
"My first thought was, 'I know he didn't buy me M&M's for Christmas,'" she says. "And the second thought was, if he did, why didn't he get the peanut (ones)."
Looking closer at the candy-coated treats, Psonya saw a message: "Will you marry me?" At that same moment Timothy took a black box out of his pocket, which held a princess-cut diamond ring. She said yes.
They wanted their wedding to represent their style. Equally important was having family and friends play a significant role in the ceremony, especially their children. Nadia was the maid of honor and Aidan the ring bearer.
Psonya and Timothy married Oct. 9, 2010, at Jennings Courtyard and Hall at Mississippi College. The bride's cousin, Elder Stacey Washington, officiated.
"She looked amazing," Timothy says. "She looked happy. It seemed like a huge pressure (had) lifted from her shoulders. She had waited so long, patiently. I was happy to have the opportunity to get our lives started and moving forward."
Although their personalities differ—Timothy is serious, and Psonya is funny—they are happy to be married. They had an opportunity to commit their lives to one another before God, family and friends. And as they watched the kids and their families and friends meet and have a good time, it was all worth it.
"Both of us were grateful," she says. "... I was humbled by all the people that came."
Currently, Psonya lives in Jackson and Timothy in Memphis. They look forward to living under the same roof in a few months.
Vendors
Cake: For Heavens Cakes & Catering (4950 Old Canton Road, 601-991-2253)
Flowers: The Olive Branch (507 Springridge Road, Suite D, Clinton, 601-924-7684)
Hair Stylist: Kimberly Johnson at Elegant Coiffures, 3944 Medgar Evers Blvd., 601-982-4902)
Photographer: Courtney Robinson of C.LASH Photography (251-442-5637, [e-mail missing])
Special Touches
• The couple chose Jennings Courtyard and Hall at Mississippi College because it was a unique venue—romantic and fun—and a place where everyone could have a front row seat.
• The color scheme was black and white with a splash of red.
• For the reception, the DJ played '30s and '40s music from Sarah Vaughn, Frank Sinatra and Louis Armstrong, and remakes from that era, because when Aidan was small, Timothy would sing these songs to him.
• Instead of lighting the traditional unity candle, the bride and groom opted to take their first communion together as husband and wife.
More like this story