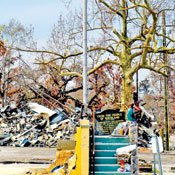 Gov. Haley Barbour and first lady Marsha Barbour will host the state's Hurricane Katrina memorial event Sunday, Aug. 29 in Gulfport, on the storm's five-year anniversary.
The event will feature U.S. Republican Sens. Thad Cochran and Roger Wicker, U.S. Rep Gene Taylor, Homeland Security Secretary Janet Napolitano, and musical performances by Paul Overstreet, the Williams Brothers, St. Rose de Lima Choir and the University of Southern Mississippi Gulf Coast Civic Chorale.
Prior to the event, Barbour will announce details for a $350 million work-force housing program funded through the Mississippi Development Authority's Disaster Recovery Division.
The memorial event starts at 3 p.m. at 15th Street in downtown Gulfport between City Hall and the First United Methodist Church.