Wednesday, August 25, 2010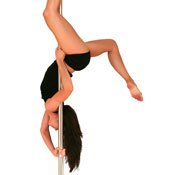 This was the moment I had been waiting for: my first session of i to Pole Fitness. I was excited and intrigued by what I would see and learn. For the most part, all I had to go on were cheesy strip-club scenes from the movies—cheap strobe lights; balding middle-aged men sitting counter side awaiting the entertainment; a sea of dollar bills floating in the air—similar to an episode of "Married with Children," with Al center court at a club with a dazed smile.
When I entered the room, it was serene. The instructor gave me a smile and welcomed me in. She looked nothing like the girls in the movies; she looked like a fitness trainer. The small room resembled a professional dance studio with its large wall mirror and shiny wooden floors. It was an intimate setting with six silver poles bolted to the ceiling and floor.
The instructor promoted confidence with her initial speech. I felt free to try the semi-sexy moves with no inhibitions. Five other girls and I sat listening to our instructor, as she explained the difference between pole fitness and pole dancing. She was there to teach pole fitness. We listened intently with hopes of acquiring the same chiseled, toned body the instructor had and the ability to squeeze into a uniform as small as hers.
After stretching, we learned transition moves like the static walk, where we walked around the pole slowly with high but small steps, and pole circles where we grabbed the pole near the height of our waists and slowly made circles with our hips. Then we moved onto the sexier but sweat-breaking moves like the Cross Leg Fireman. We wrapped one leg around the pole and hoisted ourselves up as high as we could with our other leg wrapping around. We slid down slowly, and when we hit the ground, we used our knees to roll back up into a standing position.
The session left the six of us breathless. "I took the class primarily out of curiosity. I left with a newfound respect for the art—or rather sport—of pole dancing," one of my classmates, Briana Thompson, says. "It may be very visually appealing, but it is a workout that rivals any aerobics class out there."
Pole fitness offers women a more appealing transition from the "before" to the "after" looks we admire. We want the end results of Jennifer Hudson's and Valerie Bertinelli's dieting and exercise, but we don't desire what it takes to get there. The journey to six-pack abs, slim waist and toned arms consists of blood, sweat and—if you are not used to doing 45 minutes of cardio before dusk—lots of tears. Not only that, many workouts can seem masculine with zero "sexy" potential.
Pole fitness is different, allowing women to achieve a sexy look and feel before, during and after reaching their fitness goals.
Sway Fitness (801 South Wheatley, Suite A, Ridgeland, 601-946-7075, http://www.swayfitness.net) is the only facility I found within a 200-mile radius that offers pole fitness, an exercise program centered around performing gymnastics on a vertical pole. Pole fitness uses core body strength to perform movements on the pole. The strength and motion required tones up the whole body, giving beautiful definition to the arms, thigh, abs and shoulders. The moves are similar to techniques found in gymnastics, ballet, jazz and modern dance.
The Ridgeland studio is one of more than 300 facilities throughout the world teaching pole fitness, the latest craze among women looking to get in shape, including Kendra Wilkinson, one of former Playboy founder Hugh Hefner's girlfriends.
"I've definitely hit the pole a time or two just for fun, but I wanted to learn the best ways to use it to get my body in smoking shape and look hot while doing it," she wrote on her blog at http://www.KendraWilkinson.com. Wilkinson will also release a pole-fitness workout DVD soon. As one of People Magazine's 50 Most Beautiful People in 2010, Wilkinson can influence a lot of women to try this alternative aerobic workout. I was convinced.
Expect to tone some of the most common problems areas for women such as love handles, flabby arms, buttocks, stomach and back. Plus, cardio is a great soldier in the fight against heart disease, the number one killer of women according to http://www.WebMD.com. Women are even more drawn to pole fitness because unlike pumping iron, it leaves women with a feminine look instead of a muscle-bound masculine look. Sharon Early from http://www.associatedcontent.com said that though you will see a lot of fit, strong bodies among pole performers, those who are seriously into the sport tend to develop "lithe, willowy, toned and flexible physiques that are more cut and toned, and less massively built."
"We emphasize proper stretch techniques for your abs, hamstrings, quads, biceps and triceps," says Desmone Black, instructor and co-owner of Sway. "Then we move into the cardio portion where we teach and perform transition moves to an up-tempo beat."
Black has participated in pole fitness since 2006. She and the other three instructors at Sway use the workouts to help women build upper-body strength and self-esteem.
"The class has helped women whom we've instructed in the past feel sexy and pay more attention to their bodies," Black says. "Regardless of age or weight, all women should feel sexy and attractive."
Sway Fitness aims to make women feel comfortable with a woman-geared facility, and its poles are equipped to handle weight up to 300 pounds. "Motivation gets you started," Black says. "Habit keeps you going."
Pole Fitness Benefits
• Can build firm and toned muscle in a fairly short period of time.
• Improves core strength, and in all of the skeletal muscle throughout the body.
• Improves balance and agility; increases flexibility.
• Weight loss.
• Stronger heart and lungs.
• Increased bone density.
• Reduced stress.
• Reduced risk of heart disease and some types of cancer (as with any aerobic exercise).
• Temporary relief from depression and anxiety.
• More confidence about how you feel and how you look.
• Better sleep.
• More energy.
Other Alternative Workout Methods
• Salsa dancing
• Belly dancing
• Pilates
• Yoga
• Hip-hop dancing