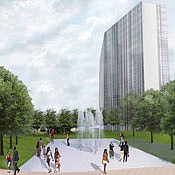 Wednesday, August 25, 2010
The Jackson Redevelopment Authority voted today to work with a developer to form a funding strategy for an automated parking garage and communal air-conditioning unit for the proposed $1.3 billion Old Capitol Green project in downtown Jackson.
Members of the JRA voted to send its lawyers and financial planners to meet with Full Spectrum South financiers to organize a funding strategy for a $21.3 million parking garage with an automated parking system and a $5.3 million communal cooling unit that will supply air-conditioning for businesses stationed in the Old Capitol Green project.
JRA attorney Zack Taylor told the board today that Full Spectrum is quickly looking to get up to $27 million in funding for the two projects, in order for developers associated with the communal Old Capitol Green development to qualify for federal Gulf Opportunity Zone tax benefits by the end of the year.
"The parking and chiller are basically the infrastructure for development. The commercial development will be using GO Zone funds, and you don't issue GO Zone bonds and start on it unless you've got the infrastructure in place," Taylor said.
Full Spectrum proposed several funding alternatives that would take advantage of federal and state tax credits, including a co-ownership with the JRA. Full Spectrum Development Director Malcolm Shepherd said revenues from the Old Capitol Green's multiple residents would pay for any bond associated with the construction within about 20 years. Within seven years, ownership could fall to the JRA, which could then sell the property at their discretion.
The parking garage will be located on Full Spectrum property between Hal & Mal's and an unused Greyhound bus station. Shepherd said he expected construction to begin early next year, if a funding plan quickly came together.
Previous Comments
ID

159532

Comment

Funny to hear about the parking garage, me and the Mrs. went to the court house a couple of weeks ago and she was wondering why there wasn't a parking garage over that way? Good deal - let's keep it movin' Jackson!

Author

Duan C.

Date

2010-08-26T07:07:39-06:00
ID

159533

Comment

I wish them all the luck in the world. But unfortunately the real story is in the last line of the article "if a funding plan quickly came together".

Author

Hamlet

Date

2010-08-26T07:51:18-06:00