Thursday, August 19, 2010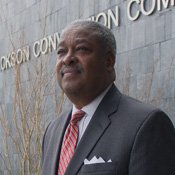 Jackson Mayor Harvey Johnson Jr. proposed a budget that that will likely contain water and sewer rate increases. The mayor called the rate hike "modest" and said city residents would see an average $3 increase per month for water and a $1.32 per month increase for sewer, amounting to a $52 annual increase in fees.
"In light of the condition of our water and sewer systems, we have no choice but to propose a small rate increase," Johnson told a crowd of about 130 at City Hall during his 2010-2011 budget address yesterday. During my previous administration, we had a gradual rate increase schedule; however, there has not been a rate increase for either water or sewer since 2004."
Beyond that, Johnson proposed a balanced $10.6 million operating budget that reflected a 4 percent decrease over the 2009-2010 budget without any tax increases or lay-offs in city staff this year.
Ward 7 Councilwoman Margaret Barrett-Simon said she was happy the proposal balanced the budget, despite millions of dollars in dropping revenue. "I knew that we had maintained our fund balance and our bond rating had improved, and I know that was very important. And I felt that when push came to shove, (Johnson) would bring us a balanced budget that maintains our financial stability for our city, and he did," she said.
The mayor boasted that the budget required no money from the city's "rainy-day fund," a fund containing 7.5 percent of the city's entire budget—which many credit rating agencies use to determine the city's interest rate on bond projects.
The rate increase does not account for the brunt of savings, however. The numbers only work after the city eliminated hundreds of unfilled staff positions and refinanced its debt—which offered a lower interest in the long run, but only put off debt payments for five more years.
The city will seek future savings by installing up-to-date water meters that could diminish water theft throughout the city and generate up to $5 million a year in new revenue, which would most likely go to new water and sewer repairs the mayor said. The city is also considering downsizing its JATRAN municipal bus-system routes in hopes of cutting those expenditures by at least 7 percent by 2013, Johnson said, part of an effort to "right-size" city services to a level more appropriate to the city's population.
"We're making housing available and making sure we have the amenities required for the people we have in the city right now and, hopefully, we won't have any more out-migration," he said. "We have to attend to the needs of the people right now, to make sure the people here in Jackson get the services they need."