Wednesday, August 11, 2010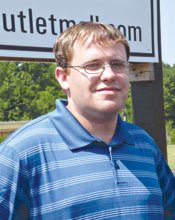 "I like having everything at my fingertips," Kenneth Johnson says about Jackson.As the director of leasing for the redevelopment of the Jackson Square Outlet Mall, the 26-year-old is dedicated to creating even more options for Jacksonians.
"Jackson doesn't have a lot of cookie-cutter shops. Once you've been to one Best Buy, you've been to them all. Once you've shopped at one Belk, you've shopped at them all," Johnson says.
"Jackson's got a lot of really different, unique and interesting places that the suburbs don't have."
The south Jackson resident, who graduated from Pearl High School, has had an interest in business since he was a child.
"I'm a '90s kid. I grew up back in south Jackson by Metrocenter Mall when Jackson was thriving, (and) places like Metrocenter were thriving. Jackson, especially south Jackson, had life back then, and I want to get that life back," he says.
For Johnson, giving life back to Jackson includes reviving the Terry Road area where the Jackson Square Outlet Mall has struggled with crime and vacancy for several years.
"It's always really interested me, taking a building that doesn't have any life and giving it life. A lot of these buildings were boarded up and are caving in, and some days we wonder why we're doing this, but we're not going to quit because I want to see Jackson come back. South Jackson is part of Jackson, too. I think it deserves as much as anywhere else does." Johnson says.
Johnson attended Hinds Community College and holds a bachelor's in business from the University of Phoenix. He opened a gas station in Pearl in 2005 and "made it boom." He says he wants to make Jackson steal the thunder of its surrounding suburbs.
"I want to make the capital city a destination city," he says.
"I want people to be able to come to Jackson and say, 'I went to Jackson, and I liked it, and it was a lot of fun', not 'I went to Jackson, and there wasn't much to do, so I went shopping in the suburbs.' I want people to come to Jackson, stay in Jackson and enjoy Jackson."
By leasing space in the shopping center to new tenants, Johnson hopes to bring vital businesses to the area, including a supermarket, which south Jackson currently lacks. Johnson hopes the mall will feature a diverse mixture of shops including department stores, food stores, local shops, national chains and "mom and pop'' stores.
"I'm dedicated to making a difference based on where I'm at," he says.
"This is where I'm from, and I'm starting with my home base."
Previous Comments
ID

159302

Comment

I like Kenneth's ambition. It says a lot to own your own gas station at age 21. Like Kenneth, I used to love hanging out at Metrocenter as a teenager. I used to live in south Jackson and would love to see that area revitalized. Whoever owned Jackson Square before should be ashamed of themselves for letting it get in such bad shape. Seems to me it was just a tax write-off. At least it's getting a well-deserved renovation now.

Author

golden eagle

Date

2010-08-12T16:42:15-06:00
ID

159310

Comment

GE, out of curiosity, what major stores do you remember being in Jackson Square in the 1980s? I never ventured south of Raymond Road during most trips to Jackson in that period. Everytime I pass that shopping center now I keep trying to envision what it looked like when it was active and full of stores.

Author

Jeff Lucas

Date

2010-08-13T07:17:20-06:00
ID

159311

Comment

I remember a Zayre's jewelry store. My mom used to go there all the time when I was a kid. And why do I want to say there was a Service Merchandise or was it always at the Metrocenter?

Author

golden eagle

Date

2010-08-13T07:38:56-06:00
ID

159323

Comment

I think Zayre's had jewelry and other stuff too - like it was a mini department store. I get it confused with Zale's, which is just jewelry. There may have been a Service Merchandise there, that sounds familiar too. And there was a post office, I vaguely remember that. When I drive through there I picture how things used to be. Like the Boardwalk club just down the street from Jackson Square that used to be Payless shoes. Or over in the shopping center where Brookshire's was - there was a Treasury Drug, then Roses next door, then it was a Kroger or maybe an A&P before it was Albertson's and Brookshire's. I'm really glad to know Kenneth is doing something in that area, I admire his ambition!

Author

andi

Date

2010-08-13T13:29:36-06:00
ID

159330

Comment

Thanks everyone for the kind comments posted. The gas station I operated was an older station built in 1950 as a service station. It was converted into a convenience store in the early 1980s by Mapco Express. In 1992, it was rebranded to a Citgo station operated by Hill City Oil Company out of Vicksburg for about 10 years. The station then went through various individual owners before being shuttered for almost 3-4 years. My mother managed the station for almost the duration of the 10 years it was operated by Hill City. When I found the station in early 2005, it was overgrown with weeds and used as a illegal dumping site. I opened the station a few months before Katrina and made the station very profitable again (doing almost what she did during the 80s and 90s) despite our horrible location (on frontage road of Highway 80) with a major branded Shell station across the street along with a supermarket fuel center also across the street. Due to a disagreement with the oil company which owned the property, I walked away from the station in 2007 and it was immediately reopened as a discount tobacco shop with gasoline and thats its status today. I praise the current owners for putting the renovations into the building that I was never able to do. That was my first experience with bring life to a former thriving retail site and that started my love affair not only for depressed retail areas but for vintage classic gas stations. I am dedicated to Jackson and will keep everyone posted on our progress at Jackson Square. My email address is [email protected] and my work cell is 601-850-3505 if anyone has any questions, comments or anything else regarding Jackson Square or South Jackson in general.

Author

Kenneth Johnson

Date

2010-08-13T19:20:11-06:00