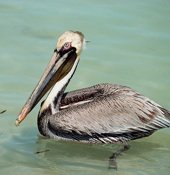 This morning, a U.S. Coast Guard spokesman said the spill from the leaking BP oil well in the Gulf of Mexico was about 16 miles from the coast of Louisiana, according to Bloomberg Businessweek. Initially, the well, damaged when an oil rig exploded and sank, had one leak pumping approximately 42,000 barrels of oil a day into the Gulf; however, a second leak is now spilling 5,000 barrels a day, and officials attempting to control the spill have discovered a third leak.
According to Businessweek: At that rate of leakage, by the third week in June it will exceed the 260,000 barrels the Exxon Valdez spilled in Alaska's Prince William Sound in 1984. BP has been unable to shut valves at the top of the well and said a permanent seal may take three months. It plans to begin drilling another well to stop the leak as early as tomorrow.
"If they don't get that well capped soon, this is potentially a Valdez," Robert Shipp, chairman of the department of marine sciences at the University of South Alabama said in an interview. Alaska's habitat, which has productive fisheries, "doesn't compare with the tourist and the beach economies of the five Gulf states."
In Mississippi, crews are attempting to protect the barrier islands from the slick making its way to shore using containment booms, reports The Sun Herald. The islands are a nesting site for numerous birds and other wildlife.
Around 5 p.m. yesterday, the Coast Guard began to burn off oil on the surface of the ocean. Controlled burns will continue, weather permitting.
Previous Comments
ID

157511

Comment

This is so unfortunate. I paid $3.05 a gallon this am. Just think about the financial loss with this spill. It is strange that we can put a man on the moon, let him moon-walk for months, yet, we can not put a piece of bubble gum in a pipe to stop a leak.

Author

justjess

Date

2010-04-29T10:57:53-06:00
ID

157516

Comment

I hope this spill doesn't drive up oil prices. Right now it shouldn't since there appears to be a surplus in the supply, but I wouldn't be surprised if the spill was cited as an excuse to raise pump prices. The environmental impacts are of a much greater concern to me, as is the potentially devastating impact on the tourism and fishing industry along the Gulf Coast. Hopefully they can find a way to cap it before it reaches Prince William Sound levels.

Author

Jeff Lucas

Date

2010-04-29T12:27:56-06:00
ID

157517

Comment

BP's first quarter profits (not total sales, just profit) -- just announced a few days ago -- were $6.2 billion (yes billion, with a "b'), twice that of 2009, quarter over quarter. If this spill drives up oil prices, it will be a prime example of big industry passing on its errors to its customers. I'm concerned about the environmental impacts, too, Jeff. The Valdez disaster happened in 1989, more than 20 years ago. Neither the once-pristine environment nor the local economy have yet to recover. Exxon, however, is doing just fine, thanks very much. Its first quarter profits, released today, were $6.3 billion, up 38%.

Author

Ronni_Mott

Date

2010-04-29T13:10:13-06:00
ID

157524

Comment

It is time the US abandoned the failed pollution economy and moved toward a combination of renewable energy and nuclear to meet our energy needs. Nuclear can safely meet our electrical needs, but I would not trust corporations to administrate it. It must be nationalized and run by the people. Anyone that thinks we won't be facing $5 - $8 per gallon fuel when the world economy rebounds has little knowledge of the price rigged energy markets. All those pickups and SUV's Detroit has been unloading on the American people for 30% off sticker won't be such a great deal at that time. Clean coal? It is a myth. I support President Obama on most things, but on coal he is letting his politician roots show.

Author

Jeffery R

Date

2010-04-29T14:33:15-06:00
ID

157541

Comment

Not only that, Ronni, but the original fine placed on Exxon was $5 billion, later cut in half by an appeals court to $2.5 billion, and then to $508 million as of June, 2008. What kind of punitive punishment is that?

Author

jamesparker

Date

2010-04-30T04:24:22-06:00