Wednesday, April 28, 2010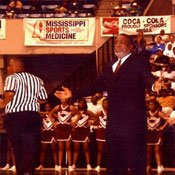 As the head coach of the Lanier High School basketball team, Thomas Billups has developed future NBA players and won state championships.
"Coach Thomas Billups' success at Lanier High School may be unmatched in the history of Mississippi high school boys basketball," adopting during a 2006 regular session of the Mississippi Legislature Senate Resolution 631 reads. "Coach Billups has built a hoops machine at Maple Street in Jackson."
Despite his success, he still considers himself mostly misunderstood by the fans that praise him. "They say I'm like Bobby Knight," he says. "But I'm not like Bobby Knight."
Outspoken coaches are inevitably going to be compared to Knight, perhaps the sport's largest coaching personality. And, in terms of wins, Knight and Billups are in the same league. Knight won 900 games as a college head coach; Billups has won over 500 high school games. Knight took home three NCAA championships at Indiana; Billups has won eight MHSAA state titles at Vicksburg High and Lanier High.
In 2005, Billups' team defeated South Gwinnett High, coached by Roger Fleetwood, on a Saturday night. The game, featuring Monta Ellis and current Philadelphia 76er Louis Williams, went to double-overtime.
A few days later, at a neutral court, South Gwinnett would go on to beat Oak Hill Academy, whose starting line-up was Ty Lawson, Eric Devendorf, Jamont Gordon, K.C. River, and Kevin Durant. (Fleetwood's team, on the other hand, eventually lost to Joseph Wheeler High School in the Georgia state tournament.)
"Each summer, Louis Williams, the other players, and I get together at a summer camp in Snellville, Georgia, and reminisce. With the exception of the Wheeler loss, the loss to Lanier was the toughest, all these years later," Fleetwood said. "He had his team playing aggressively, and they played the game 84 feet. If you can get really good players to play really hard, that's the sign of a great coach."
Billups credited his faith, not his fury, for his success.
"I coach the way God wants me," he says. "I don't break rules. I don't think I would have won that many championships if God wasn't in my life. I could name a lot of times when we're behind, if I go blank, I stop and ask him for help. I know I didn't do it by myself. I'm not the smartest coach in the world. That's who I always ask for help."
Ellis, his most famous pupil, played almost every position well and served as a leader in the locker room and on the court. Ellis is having his best season in his fourth season, with the Golden State Warriors. During the 2009-2010 season, Ellis has averaged 25.4 points a game. Their relationship was close and extended beyond the court.
"It was like daddy and son," Billups said of their relationship. "When he needed help, he came to me and I helped him. He talked to me about other coaches. He wanted to win, and he wanted to win every game."
Billups took a little credit for developing the former second-round pick (40th overall) of the Golden State Warriors. But he admitted that their relationship has been strained since Ellis landed in the pros. "Right now, [our relationship] is not the best in the world. Sometimes we talk once or twice a year. Sooner or later, God will put us back together."
Billups' career path, winding throughout the state, began in football. A native of Louisville, Miss., Billups spent time as a multi-sport coach at Vicksburg High School and Blackburn Junior High before being hired by Lanier High School.
"Basketball was not my sport," Billups says of his own athletic career. "I played football, baseball, and I ran track. I played a little bit of high school basketball, but not much."
Once Billups focused on coaching basketball, he rose to prominence quickly, winning his first state championship at Vicksburg High School. After a few years in that position, Billups wanted to move to Jackson to be closer to his family.
"I got a job in Vicksburg, and my wife was working in Jackson," Billups says. "After 12 years at Vicksburg, I got tired of driving (back and forth), and my kids were growing up and I wanted to be at home with my daughter and my sons, so I tried to get a little closer."
Even though Billups has sometimes had the advantage of exceptional talent like Ellis, he has more often had to rely on discipline to secure victories. "I'm real tough on the kids; I won't let them do what they want to do. We got a lot of rules that we follow, and if you don't follow them you don't play."
Quentin Watkins, an 11th grade point guard at Lanier, noted that Billups' coaching style is particularly involved and intense. "His coaching style is just. …" he trails off. "It's a 'get out there'-type style—very hard-nosed basketball."
"(Players) always haven't had a lot of talent," Billups says. "I always try to make them the best they can be. Some players I brought in weren't very good, but after two or three years with me, they became good. Some became great basketball players."
Previous Comments
ID

157589

Comment

Coach Billips was the quarterback of my high school when I was a very young lad. I was in the band and got to see him play most games until I moved to Ridgeland. He never wanted to come out of the games no matter how much he was hurt or ineffective. He was a great warrior back then just as he is now. We used to play Lanier, Greenwood and Greenville back then. Those country and cock- strong boys used to beat the crap out of us. The coaches saw me playing intramurial football as a running back back then and had the band director to throw me out of the band so I could play running back on the football team. I refused to play and went back to the band room. Unfortunately, I didn't know any football players back then who were very scholarly too, and so I refused to become a mere jock as I perceived the situation back then. I know Coach Billips' wife too. She grew up not far from where I lived until 14 years of age. I wish them the best. Good story! Thanks.

Author

Walt

Date

2010-05-03T17:54:00-06:00