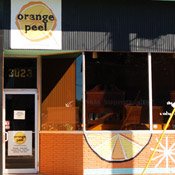 J Woods Public Relations Helps Small Businesses
Jamie Woods, 36, wants to help small businesses succeed. On May 10, the Jackson Chamber of Commerce will host a ribbon-cutting ceremony for her new venture, J Woods Public Relations. Woods spent the last 10 years marketing behavioral health services for Pioneer Health Inc. and its physical therapy division, Medicomp Physical Therapy.
Woods, who lives in Brandon, said her company provides public-relations services for small businesses to reach their target markets. "I've made a lot of contacts over the years with chambers and non-profits, and helped a lot of small businesses grow," Woods said. "There is a need to help small and medium businesses that may not be able to afford a full-time (public relations) position."
Through her website, J Woods will offer advertisement opportunities and event listings.
J Woods Public Relations' ribbon cutting is May 10 at 4:30 p.m. at Olga's (4760 Interstate 55).
Fondren Business Owners Seek to Increase Security
Fondren business owners are joining efforts to combat crime after a man broken through The Orange Peel's front door and stole a flat-screen TV last Wednesday. The consignment store's surveillance camera caught the suspect in action, who is still at large.
Tangle Salon owner Brian Brower and Orange Peel owner Kristin Tubb are working with other business owners to pool together and hire a security guard to patrol the Fondren area from 10 p.m. to 5 a.m.
Brower said he is also investing in a pull-down metal door to protect his business. "Each owner is going to have to do what they can to protect their business; we can't rely on the city because so much is going on," he said.
Fondren Nails Has New Manicurist
Kristy Grizzell, 25, is the new manicurist at Fondren Nails, located in the Fondren Corner building. After graduating from Magnolia Cosmetology School, she worked at a local hair salon and the Fairview Inn. Grizzell, a Jackson native, is certified through the International Pedicure Association and specializes in manicures and pedicures. On May 22, from 8 a.m. to noon, Fondren Nails will host a "Princess Party" for girls. The cost is $15 and includes a mini-manicure, pedicure, makeup and a photo shoot. To schedule an appointment or find out more about the "Princess Party," Call 601-362-6292.
Previous Comments
ID

157456

Comment

It's sad to see that Fondren businesses feel the need to provide additional security to protect their investments and lives, but let's face it, even the US Supreme Court ruled that the police are not obligated or responsible for any individual's or property's protection. Police are charged with catching criminals after the comission of a crime. http://www.nytimes.com/2005/06/28/politics/28scotus.html These roll down security covers are standard in New York City, but they look ominous, unattractive and say..we do not safe in this community. In NYC most pull down covers are either vandalized with graffiti or gang signs. If pull down window covers are a reasonable extra protection I hope the Fondren business community sees their installation as providing another blank "village canvas" for local artists to ply their trade. Fondern, being a hot bed of "creatives", could turn all three of these roll down security cover' negatives (ominous, unattractive and fearful) into positives by employing local artists to decorate the covers with...whatever artist's do. Just a suggestion.

Author

FrankMickens

Date

2010-04-27T21:26:17-06:00
ID

157502

Comment

great comment/ideas, Frank - should this be the last straw or necessity.

Author

2599

Date

2010-04-28T23:53:56-06:00