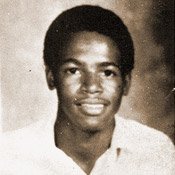 It was almost midnight May 14, 1970, when James Green, 17, made his way home from his after-school job at a grocery store, cutting through the chaotic and racially charged Jackson State University campus. Throughout the day, students peacefully protested the Vietnam War, and unequal rights of blacks but after false rumors of the assassination of Mississippi Mayor Charles Evers, brother of murdered civil-rights activist Medgar Evers, members of the community joined students on Lynch Street and started rioting.
The fire department, highway patrol and National Guard were called to contain the situation, and police opened fire when a glass bottle dropped in front of Alexander Hall, which officials misheard as gunfire. Shortly after midnight on May 15, Green died from a gunshot wound.
Police also killed Phillip Gibbs, 21, a junior at Jackson State, and injured 12 others. Green, however, was not in the crowd. He stood behind the highway patrolmen on the opposite side of the road.
Green, a senior at Jim Hill High School, was two weeks away from graduation. He ran track and was one of the fastest runners at school, earning him the nickname "wing feet."
"His plan was to go to UCLA, and his goal was to make it to the Olympics," says Green's sister, Gloria McCray, 56. "That's all he talked about."
The fifth of nine children, Green was very protective of his family, and McCray remembers the only fight he ever got in was one where he defended his brother. Family and friends knew Green for his sense of humor, and McCray describes him of having "the personality of Bill Cosby" and the "ability to make a dead man laugh."
"I think if anybody would have known him, they would love him," McCray says. "(Jackson State University) is having a 40-year commemoration. To commemorate, to me, means something to celebrate, and I can't celebrate the 40 years of his death, but I can celebrate the 17 years of his life. He definitely would have been somebody to be proud of."
McCray also celebrates her brother's life through her son, also named James, who also ran track at Jim Hill High School.
On Thursday, April 29, Jackson State will host its 40th annual Green-Gibbs memorial in honor of Gibbs and Green starting at 9 a.m. Events include a commemorative forum with JSU president Ronald Mason, a student and faculty forum at 11 a.m., a luncheon at 12:30 p.m., a discussion with shooting victims at 3:30 p.m.; and a candlelight vigil at 6:30 p.m. in the Gibbs-Green Plaza. For more information, contact Spencer McClenty at 601- 979-1457.
Previous Comments
ID

157427

Comment

The only rioting that night was on the part of law enforcement, not students or people in the community.

Author

blkjazz

Date

2010-04-26T13:10:45-06:00
ID

157430

Comment

I grew up with James Green and we were friends that often played sandlot basketball together. I remember that day when several of our friends wnet up to then JSU to see what all the commotion was about. We were just hanging with all the other students and people in the community when all hell broke loose. When the shooting started we started running through the a hold in the fence that lead to Morehouse Street with several police officer chasing us. It was the next day that we heard that James had been shot and killed during the incident. It could have been handle differently but the Mayor and the govenor want to show that they had the power of live and death over us just because of the color of our skin. To this day I still wonder why we are still hating people just because we have a different color. James should not have had to die that day nor should so many others have suffered and died just because of the hate and bigotry that was taught and suppported during this era. I really wish that we could have learned from the tragedies of the past but the older I get the more I see that what we as African American suffered through during this era that we now have people in our on race doing the same thing to their own race and other peoples that color is different. It's time for us to honor and learn but not to go out and show that we have the power to seek revenge and continue this dreaded illness, (RACISM). If it wasn't right then, then it's not right now!!

Author

Chef Tony

Date

2010-04-26T14:11:16-06:00