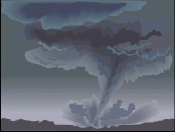 Officials are accepting donations for nonperishable food and bottled water at the Mississippi fairgrounds to assist victims of Saturday's tornados, reports The Sun Herald. The state Department of Agriculture opened the fairgrounds yesterday to receive aid.
Saturday's severe weather generated at least 61 tornados throughout the South, reports ABC News, leaving at least 12 people dead. Mississippi reported 32 tornados, with winds of 160 mph; one tornado had a base one and half miles wide.
Gov. Haley Barbour declared a state of emergency in several counties, including: Choctaw, Desoto, Forrest, Holmes, Jefferson Davis, Jones, Lamar, Lauderdale, Marion, Marshall, Oktibbeha, Simpson, Tallahatchie, Union, Warren, Webster and Yazoo. The governor has called on the National Guard to assist local officials during the emergency.
"Our prayers are with those families who have been impacted by this dangerous line of storms that traveled through the state," Barbour said in a release. "The effects of these storms have left many Mississippians with destroyed businesses and without homes."