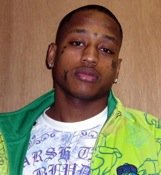 Around 6 p.m. yesterday, police arrested Vincent McGee, 22, for the slaying of white supremacist Richard Barrett. McGee, on supervised release for assaulting a police officer and grand larceny in 2007, lived with this mother just a few doors down from Barrett in Pearl, and had done yard work for him.
Rankin County Sheriff Ronnie Pennington told reporters that Barrett suffered several stab wounds to his neck, blunt force trauma to the head, fractured ribs and burns over 35 percent of his body. McGee will appear before a judge on Monday charged with murder.
"What (Barrett) stands for was hate and was wrong," Dan Hall, a strategic consultant to Mission Mississippi, told WAPT. "That he was murdered is no more right than someone who would be against abortion murdering an abortionist. That is not something we should take into our own hands."
Jackson-based Mission Mississippi is a non-profit organization that works for racial reconciliation throughout the area.