Wednesday, April 21, 2010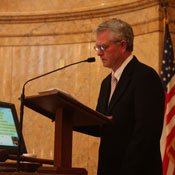 Read the Senate Report Card (PDF)
Read the House Report Card (PDF)
Political and community activist Rims Barber released a 2010 political report card grading legislators based on their votes for 10 progressive bills that filed through the 2010 legislative session before it temporarily recessed in March.
Barber, a minister who came to the state in 1964 at the request of the National Council of Churches to help with civil rights work during the historic Freedom Summer campaign, remains deeply involved in politics and regularly lobbies legislators on a variety of progressive issues.
The report card classifies legislators based on their up or down votes on bills from their respective chambers. The findings of the Senate report card stems from votes on bills like SB 2688, which increased funding for the Mississippi Adequate Education Program formula while Gov. Haley Barbour sought to cut the entire state budget by $79 million, including MAEP. A second determiner for the grade comes from the failed veto override attempt of SB 2688, after Barbour rejected the budget increase. Two other Senate bills that set the standard included SB 2495, which minimized budget cuts affecting education and social services and SB 2775, which would have removed many state employees from job protection provided by the State Personnel Board procedures.
Bills on the House side that Barber drew upon to set a grade include more bills that restored budget cuts mandated by the governor, as well as bills such as HB 1627, which did away with the requirement of Medicaid beneficiaries to re-instate their benefits through a personal meeting with a state Medicaid officer. It also included HB 539, which protects people videotaping on-duty law enforcement officers, firemen or conservation officers, so long as the person doing the recording does not interfere with the work of the officers.
"The bills have to be social-issues bills," said Barber, who has been compiling the grade for two decades. "I look primarily for basic human-rights kinds of topics: health care, education, workers rights, that kind of thing. People need to know how their legislator votes on these important human issues."
Barber said he had to be selective in choosing example bills that help classify a senator or representative. The Senate, for example, tends to vote 52-to-nothing on most bills. When most newspapers compile a wrap-up of the Mississippi Legislature, they end up including a majority of the bills voted on with an easy 52-to-0 vote—offering no real grading scale by which a voter may rate their senator.
For this reason, Barber aims for bills or amendments that get a livelier vote such as a 31-to-19 vote—following, perhaps, a great deal of chamber bickering—with enough of a differential to make it worth recording.
Barber said he noticed an evolution during the two-decade course of his grade scale: white and black legislators are more united on issues and less united by race.
"I started out in the days when nobody (white) voted with anyone black, and now we've got blacks and a significant number of whites voting together on issues of importance: on how to handle health care issues, how to handle workers' rights issues and education issues. We've got blacks and whites voting together on the same subject. It didn't used to be that way. It's a nice change," Barber said. "Remember that 100,000 white people in Mississippi voted for Barack Obama. When I started out, (he) might have gotten 10 (white votes)."
Barber also noted that House Speaker Billy McCoy votes more often with the Legislative Black Caucus than he did five years ago. McCoy used to get a C on the grading scale half a decade ago, but this year he got a straight A. Barber admitted that the Black Caucus voted to help McCoy keep his seat as House Speaker, but pointed out that individual politicians have been evolving quickly over the years.
"I remember when Rep. Cecil Brown, D-Jackson, ran for re-election and was against the tobacco tax in his election campaign. Now, during the last couple of years, he's been a staunch advocate for the tobacco tax. He changed. That's cool. I like to see people grow and change," Barber said.
The minister also noticed that the votes in the Senate have become far more polarized over the last five years. The grading scale ranges from "A" to "F," with an "A" representing a "yes" vote for all seven socially progressive Senate issues and an "F" for a "no" vote on all seven issues. While the House report card contains a wide scale of letters ranging between "A" and "F," the Senate roster is mostly a collection of only one extreme grade or the other.
"In the Senate we find only votes with or against Gov. Haley Barbour. We find mostly "A" grades or "F" grades, and barely anything in between," Barber said. "We're finding very few "C"s in the Senate these days. It's so polarized. Everybody is either an "A" or an "F," Barber said. "I'm not sure how politically healthy that is."