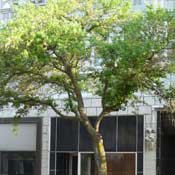 When the East Capitol Street building that housed his law office began shifting in the late 1990s, Mike Malouf Sr. was puzzled. Malouf had purchased the building on East Capitol and South President streets in 1977, but the structure was over 100 years old and hadn't shown signs of stress earlier.
"I couldn't figure it out," Malouf said. "Every morning you came in, you'd see a bigger crack."
Eventually, a friend suggested that the culprit could be the eight live oak trees Malouf had planted around his office when he first bought it. The deep root structures that make live oaks so hardy in storms also make them problematic for building foundations, Malouf learned. Malouf made the difficult decision to cut down the live oaks and replace them with Crapemyrtles. The very thing that made live oaks so appealing, their enormous canopy, made them a nuisance as they grew older, he said.
"We had put a balcony (on the building), but you couldn't even see the street because those oaks were so big," Malouf said. "I'm not sure oak trees are something for an urban setting, in the downtown area."
Downtown Jackson Partners agrees. The development organization is suggesting that the city replace the trees along Capitol Street with a new species less likely to shift sidewalks and foundations.
"Live oak trees should never be planted in areas that choke them via sidewalks, streets, buildings and the like," DJP President Ben Allen wrote in an April 12 blog post. "Their growth is continually stunted, and must be 'butchered' yearly for power lines, buildings and the like, and continually break up sidewalks and cause problems with building foundations."
A "consistent tree type" would be the best solution, Allen added.
DJP Associate Director John Gomez told the Jackson Free Press that the live oaks' broad canopies also interfere with street lighting at night. City workers had to trim back branches before Mal's St. Paddy's Parade last month in order to make room for the Kermit the Frog float. Gomez said that replacements for live oaks would be a part of plans for the conversion of Capitol Street from one-way to two-way.
City spokesman Chris Mims said that the city is looking at Capitol Street's trees and studying ways to improve pedestrian access and lighting."We just want to make sure that visitors and people who come downtown have proper lighting," Mims said.
Not all downtown business owners have had problems with live oaks. The Mayflower Cafe, which has been open since 1935, has yet to suffer any foundation problems from trees, owner Jerry Kountouris, said.
"If they would keep (the live oaks) trimmed, they wouldn't affect the lighting, but they don't keep them trimmed back," Kountouris said. "Aesthetically, they do add to downtown. They give shade."
Still, Kountouris said he trusted the judgment of city officials and Downtown Jackson Partners. If the trees' roots were causing problems, he said, he could understand the need for replacements.
Craig Noone, whose restaurant Parlor Market will open in June one block east of the Mayflower, worried that cutting down all of Capitol Street's live oaks would drastically change the area's appearance. The tree in front of his restaurant poses no problem for many years, he said.
"I like the streets lined with live oaks," Noone said. "I just think it will take too long to get the beauty back."
Previous Comments
ID

157272

Comment

Cut them down, cant even see the buildings because those trees are covering everything. Mississippi has to much nature anyway and its choking downtown visibility.

Author

NewJackson

Date

2010-04-16T14:50:20-06:00
ID

157273

Comment

No other tree matches the simple beauty of a live oak. I would hate to see them go.

Author

ellen

Date

2010-04-16T15:20:17-06:00