Wednesday, April 14, 2010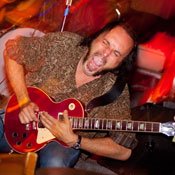 Spring fever is in the air, and you'll find lots going on this week around town. Friday, turn out to support Operation Shoestring at the Spring Fling Benefit at the Mississippi Museum of Art with Horse Trailer from 7-8:30 p.m. and the very fun, danceable old-school soul band Wiley & the Checkmates on stage from 9-11:30 p.m.. Tickets are $25 at Be-Bop Record Shops or at the door. Go to http://www.operationshoestring.org for details.
Also this weekend is the 11th Annual Crossroads Film Festival, showing movies at the Malco Grandview in Madison. Rub elbows with visiting filmmakers after their films or head downtown for the after-parties in Hal & Mal's Red Room Friday and Saturday nights at 9 p.m. Tickets for the parties are $7 for non-Crossroads members at the door, $5 members. Hear Ben Shea and Star and Micey Friday night, and 7even:Thirty & 5th Child and Furrows Saturday night.
Hal & Mal's Big Room hosts a triple bill of heavy rock 'n' roll Friday night with the up-and-coming metal band Burning Windsor, Bloodstyne and Shaken at 9 p.m.
Head to Martin's Friday for the return of raucous blues-juke throw-down Scissormen Friday night. Fuzzed-out slide guitar hellcat Ted Drozdowski tries to one-up his reputation for blowing minds by mixing through the crowd, walking across tables during a solo and leaving a pint of piss and vinegar on the stage at the end of the gig. A Scissormen show is spontaneous free-form acid-blues injected straight into your veins. Scott Albert Johnson will lend harp to the juke. Bystanders with heart conditions should not attend.
For long-haired entertainment of another sort, the Mississippi Opera performance of Johann Strauss' three act opera Die Fledermaus will be at Thalia Mara Hall this Saturday night, with the curtain rising at 7:30 p.m.; $20-$55. The Mississippi Opera is now in its 65th year, promising professional, top-caliber productions. Visit http://www.msopera.org for details or for advance tickets.
This Saturday is the 30th Anniversary Alcorn Jazz Festival at the Vicksburg Convention Center. High School and College jazz ensembles will perform from 8:30-4 p.m. The featured performance will be the McCoy Tyner Trio with Gary Bartz at 7 p.m. All shows are free. Call 601-877-6602 or visit http://www.alcorn.edu/jazzfest for details. Also this Saturday, the indie-pop group Manchester Orchestra will perform at the Lyric in Oxford.
The annual spring music fest at the Crawdad Hole on Lakeland Drive happens this Sunday—it is Crawfish season after all.
Pat Thomas kicks off the all-ages fun at 3 p.m., followed by the Mayhem String Band at 4 p.m.; Rocket 88 at 5:15 p.m.; South Memphis String Band at 6:30 p.m.; Alvin Youngblood Hart & the Muscle Theory at 8 p.m.; Jimbo Mathus & Tri-State Coalition round out the day at 9:15 p.m. Tickets are $15; $5 coolers; call 601-982-9299.
If you're up for a road trip, Elvis Costello headlines at the IP Casino Resort in Biloxi Saturday, April 17. Also on April 17 is the annual downtown Clarksdale Juke Joint Festival with Honeyboy Edwards, Jimbo Mathus and 50 others. The fun goes from 10 a.m. to 1 a.m., and tickets are $10. Call 662-624-5992, or visit http://www.jukejointfestival.com.
Next Saturday, April 24 head to the Oxford Courthouse Square Double Decker Arts Festival with Machine Gun Kelley, American Aquarium, Wiley & the Checkmates, Cornmeal and Grupo Fantasma. Info at http://www.doubledeckerfestival.com.
Make plans now for this year's New Orleans Jazz Fest, highlighted by the Crowes, George Clinton and Steel Pulse April 23; Better Than Ezra and Simon & Garfunkel April 24; Galactic and the Allman's April 25; Blues Traveler, Gov't Mule and Elvis Costello April 29; Band of Horses and Pearl Jam May 1; The Dead Weather, Richie Havens, B.B. King, the Neville's and Van Morrison May 2. More details at http://www.nojazzfest.com.
The Beale Street Music Festival in Memphis runs April 30-May 2. Go to http://www.thebealestreetmusicfestival.com for details.