Wednesday, April 14, 2010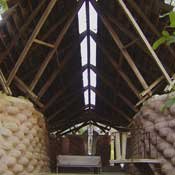 For more than 20 years, a quiet revolution in American architecture took place in Canton. Samuel Mockbee, a Meridian native, practiced a defiantly local but widely influential form of modernist architecture in the Deep South from the 1970s until his death in 2001. In an era when architectural success is typically defined by huge, high-profile projects—museums in major American cities and skyscrapers in Dubai—Mockbee's art was remarkable for its moral charge.
Mockbee's work—specifically the Rural Studio at Auburn University's architecture school, which he co-founded in 1993—is the focus of "Citizen Architect: Samuel Mockbee & the Spirit of the Rural Studio."
A fifth-generation Mississippian, Mockbee grew up in Meridian. After two years of military service, he enrolled at Auburn University, graduating from its School of Architecture in 1974. In 1977, he opened a practice in Canton, and in 1983 joined forces with Coleman Coker, another Canton-based architect. Together, Coker and Mockbee developed award-winning designs that melded modernist influences with a sense of Southern identity.
Mockbee ditched his lucrative private practice in 1993 to start the Rural Studio in Newbern, Ala., chasing what he called "a more socially responsive architecture." The Rural Studio takes Auburn architecture students to Hale County, Ala., for a semester to design and build structures in one of the poorest places in the country, using cheap, often recycled materials like old tires and hay bales.
In 2000, Mockbee became the third architect ever to win a prestigious McArthur Foundation Fellowship, a five-year, no-strings-attached $500,000 "genius grant." Tragically, Mockbee succumbed to complications of leukemia one year later, in December 2001.
"Citizen Architect" is a joint work of director Sam Douglas, Mockbee's son-in-law, and producer Jay Sanders, who was a former student and instructor at the Rural Studio. The filmmakers' affection and respect for Mockbee is palpable throughout the movie, as is Mockbee's own generous personality. The film intersperses footage of Rural Studio students at work with interviews of Mockbee's colleagues, students and family. The heart of the film is Mockbee himself, as seen and heard in candid, never-before-seen interviews conducted by filmmaker Sam Douglas in 1999. A bear with a thick beard, Mockbee dispenses architectural wisdom in these clips with a deep drawl.
At 60 minutes, the movie feels less like story telling and more like a series of conversations on the proper work of an architect. Colleagues and followers crop up to offer similar takes on Mockbee's style and contributions to the profession, with little disagreement. The film is short on critical views of Mockbee's work, offering only one counter-argument from an architect: Peter Eisenman, an architect and professor at Yale. Eisenman is known for his heady, deconstructivist designs that often discomfit visitors—a far cry from Mockbee's inviting, if also eye-catching work. In one of the film's most memorable moments, Eisenman recounts an experience designing an affordable housing project. He had no interest in meeting or interacting with the future residents, he said.
"Do I need to engage with the people in these projects?" Eisenman asks rhetorically. "No."
For the most part, Mockbee's architecture doesn't come across well, however impressive it may be. Shown primarily in still elevation shots, we rarely get the sense of how it must feel to move through these buildings. The exceptions are the few scenes where we see the buildings in use: The crowd clustered around an undulating chain-link backstop at a community baseball field makes the students' work look lived-in and all-American, even as their swooping design makes the game look newly weird. A man clips a leash onto a dog under the arching roof of the open-air Hale County Animal Shelter, which could be an airplane hangar or the dried-out belly of a whale.
When the film really lives is in the affectionate, sometimes jousting interactions between architects and clients in Alabama and in the few shots of people interacting with the Studio's handiwork. Douglas and Sanders bookend the film with a pair of conversations between Sanders and Peanut Robinson, a resident of Newbern.
In the first conversation, Robinson is dubious that a group of architecture students, most of them white, have provided any tangible help to Hale County. "What has the Rural Studio done for this community?" he asks. At the film's end, Robinson sits outside the Newbern Fire Station, another Rural Studio project. He has changed his mind, but the film offers no direct explanation why.
The film's best illustration of how the Rural Studio changes lives is in the house students built for Jimmie Lee Matthews, an eccentric who calls himself "Music Man" and lives in a collapsing, leaky trailer crammed full of stereo equipment. Douglas and Sanders follow Rural Studio students as they plan Music Man's new home and then build it themselves.
Near the film's end, we see Music Man in his Rural Studio home. Sunlight filters down through skylights in the house's narrow, high-peaked ceiling and falls on the same jumbled assortment of stereo equipment and belongings in plastic bags that filled Music Man's old shelter.
"Is this the best that architecture can do?" the scene seems to ask. Sanders himself suggests that the most significant feature of Music Man's new house is the 183-foot well supplying drinking water, not the beautiful and resourceful building design. But Music Man is smiling as he putters around his new house, cranking up his stereos. The architecture has not changed the day-to-day of Music Man's life, but the Rural Studio has given it a more beautiful, humane vessel.
The screening of "Citizen Architect" is Sunday, April 18 at 7:25 p.m.