Wednesday, April 14, 2010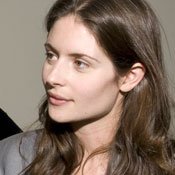 Seated in a well-appointed living room, a pretty young woman tells a tragic story in an eerily steady voice. Anna Baltzer is speaking in the 2008 DVD "Life in Occupied Palestine: Eyewitness Stories & Photos," a recording of her presentation about daily life for West Bank Palestinians.
Baltzer relates that a Palestinian woman, seven-months pregnant with twins and in labor, headed to the hospital with her husband. Just outside their village, they stopped their car at an Israeli checkpoint, one of dozens of concrete and barbed-wire barriers that the Israeli Army has erected along West Bank roads.
The Israeli soldiers on duty politely told her that crossing the checkpoint at night was prohibited. The couple argued with the soldiers for hours, Baltzer says. Finally, the husband called an Israeli friend who knew an army officer who arranged for the woman to cross. However, she couldn't take her car or husband. She entered a waiting ambulance and immediately gave birth to the twins. During the hour-long drive to the hospital, the premature babies died.
"I tell this story not because it's heartbreaking and not because I'm trying to demonize these soldiers," Baltzer says in the DVD. "...[T]he greatest crime of all is not so much the acts of individual soldiers ... but the system itself, the fact that things are structured this way such that there are even soldiers there to begin with, who can decide whether people can go to the hospital."
The example is just one in Baltzer's case against Israel's occupation of the West Bank. Her allegations of Israelis usurp-ing Palestinian rights may be true, but she supports them mainly with anecdotes rather than facts and makes no attempt to present the Israeli government's perspective.
Baltzer describes herself as a Jewish American granddaughter of Holocaust survivors who graduated from Columbia University and won a Fulbright Scholarship to Turkey. "I saw Israel as an entirely defensive, peace-seeking nation, a democracy--and it was actually only my personal experience that helped shape a more realistic view of what's going on," she said in a 2009 interview on "The Daily Show with Jon Stewart."
Israel captured territories during the 1967 Six-Day War, including the West Bank from Jordan and the Gaza Strip from Egypt. As Baltzer noted, thousands of Israelis moved into the territories, motivated by financial incentives offered by the Israeli government--settlements that Baltzer and others believe are illegal under international law.
Of the nearly 2.5 million people estimated to be living in the West Bank in 2009, approximately 2.1 million were Palestinian and about 400,000 Israeli. Israel withdrew from Gaza in 2005, assigning Israeli soldiers to evacuate thousands of Jewish settlers; however, hundreds of thousands of Israelis continue to occupy the West Bank and other strategic territories, the source of considerable tension and bloodshed in the region.
Although Baltzer advocates nonviolent resistance to the occupation, she is a controversial figure speaking on a controversial topic. Israel has long been a U.S. ally in the Middle East, and the pro-Israel Committee for Accuracy in Middle East Reporting in America has criticized Baltzer for using "her Jewish heritage to accrue credibility before predominantly non-Jewish audiences who often fail to see through her deception."
On her Web site, she urges readers to join local and national solidarity groups for peace and justice, and the movement for boycott, divestment and sanctions against "Israeli Apartheid." Saying that the mainstream U.S. media ignore the situation in the West Bank, she urges people to monitor local media and "demand accurate coverage of what's happening in Israel/Palestine."
Baltzer will speak Tuesday, April 20, at 7:30 p.m. in the Ford Academic Complex Recital Hall at Millsaps College. Author of "Witness in Palestine: A Jewish American Woman in the Occupied Territories," she often appears at American colleges and churches and reports on her trips to the occupied territories on her Web site For more information, call Lamees El-Sadek at 601-953-3775.
Previous Comments
ID

157241

Comment

Thank you for writing this article, Andy. It's a conflicting and emotionally challenging topic to write about, sometimes even more so to a predominately non-Jewish readership.

Author

janinejulia

Date

2010-04-14T13:21:31-06:00
ID

157243

Comment

Having seen Anna Baltzer's DVD and read her book, I must disagree with the author when he says that she supports her argument with mainly with anecdotes rather than facts. I think she achieves a good balance and, in fact, provides sources for her listeners and readers so that they can check out facts for themselves rather than taking her word. True, she does not present the viewpoint of the Israeli government, but that isn't her purpose. I believe she is trying to make known the stories of people whose voices are not heard in U.S. media.

Author

Lola

Date

2010-04-14T15:14:21-06:00