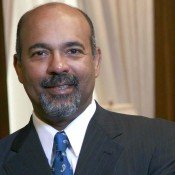 Jackson State University President Ronald Mason Jr. is scheduled to interview for the president's post at the Southern University System in Louisiana today, and his potential departure could mean new leadership for JSU.
Sen. David Jordan, D-Greenwood, remains hostile to Mason's most recent attempt to "ensure the future" of some of Mississippi's historically black colleges and universities through consolidation and cost-cutting.
"The only problem I had with Dr. Mason was his attempt to merge HBCUs into one university," Jordan said. "I refused to speak with him twice on the matter because I knew his philosophy and mine was very different. I'm trying to save Mississippi Valley State University, which the Delta so desperately needs, and here you have a person who is head of an HBCU, advocating merging the university with the others. It wastes my time talking to a man with that kind of mindset."
Jordan said Mason's experience was not that of many Delta students. "Up here in the Delta, Valley State is pretty much the only hope that many young people have. It's not like down in Jackson, where you have more options. I don't think Mason can understand that," Jordan said.
In January, Mason proposed a plan to legislators to contend with "draconian" budget cuts over the next two years. The plan called for transforming Jackson State University into a college specializing in liberal arts and science graduate degrees. Under that same plan, Valley would become Mississippi Valley College, and would specialize in "service learning," while Alcorn University would become "Alcorn College," a facility for traditional degrees.
Mason would not call the plan "a merger," but insisted that black leaders needed to begin a serious discussion on keeping the state's HBCUs viable.

"What I'm advocating for is to have the conversation. (Black universities) don't have the foundation that the larger (white) schools have," Mason said at a January press conference. "I really think that we have challenges that will be difficult to face as individual institutions. Candidly, I think one strong HBCU is better than three weak ones, and I think Mississippi should have 'the big four' instead of 'the big three,' and the fourth one should serve to lift up black people in Mississippi."
Mason's bold steps to improve Jackson State University during his 10-year tenure also drew animosity, particularly his push to dissolve classes with low student attendance, based on national recommendations.
Associates of the Hinds Chapter of the Jackson State University National Alumni Association Political Action Committee and the Mississippi Coalition of Black Higher Education Members complained last July that the university planned to cut programs through Mason's curriculum reorganization.
Some committee members, like Ivory Phillips, former Dean of JSU's School of Education, questioned the impact of the streamlining effort upon the university's viability as a standalone school.
Mason, at the time, argued that the effort was needed in the face of budget cuts, and argued that many of the courses considered for termination had very low student attendance or interest.
But even then, critics complained of a brooding consolidation effort. Local attorney and ward 2 councilman Chokwe Lumumba filed an amicus brief related to the university's suit against the state in the Ayers case in the 1990s, a case arguing that Mississippi historically black colleges and universities were discriminated against when receiving state funding. Last July, Lumumba said he feared the that by cutting courses, the university could be setting itself up as an adjunct for another state university, like Mississippi State University.
Lumumba said today that Mason's impact upon the university was obvious in the new construction projects taking place at the institution.
"The face of the school has certainly changed. It looks a whole lot better," Lumumba said. "Nobody will deny that, but I'm withholding my opinion on Mason's other work with the university because I'm not on the inside."
Public relations consultant William Dilday said Mason has done a great job regarding building "bricks and mortar," but questioned the president's accomplishment academically.
"He's done hard work, but he's a public relations disaster," Dilday said. "He's got many of the students, the faculty, the alumni, the black caucus and much of the state's black communities opposed to him. I can't say the merger is good or bad, but he could have sold it better. He could have started off by sitting down with the presidents of Alcorn and Valley and going over the details, then they could've sat down with the heads of the alumni associations, and then they could've shown them the numbers as to why the merger was necessary."