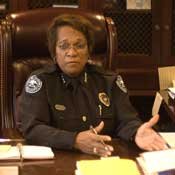 The Jackson Civil Service Commission will decide if the city had the right to dismiss former Jackson Police Officer Kevin Nash after allegations that he used excessive force against a civilian and violated his employment agreement.
Jackson Police Chief Rebecca Coleman fired Nash after an investigation into his alleged Sept. 7 beating of 19-year-old Clinton resident Cameron Hamel at Pine Trail Apartments, where Nash worked as a security guard. In addition to the alleged beating, Nash's employment as a security guard for the Clinton apartments constitutes a violation of his employment agreement with JPD, but his attorney, Kate Eidt, argued that the offense constitutes a violation suitable for suspension, not dismissal.
"They're charging him with violation for not getting pre-approval for outside employment as a courtesy officer, and then they're coming on top of that with conduct unbecoming a police officer for excessive use of force, so he's going to get it coming or going," Eidt told the panel. "When you step back and look at it, the charges are too severe."
At the Civil Service Commission hearing yesterday, Coleman testified that the police department's Internal Affairs investigation determined that Nash used "excessive force" against Hamel. Coleman said she also considered Nash's history when she made the decision to fire him, and believed he had a predilection toward violence that had led to "several allegations" against him of excessive use of force while with the department. One allegation resulted in a 15-day suspension for Nash. Coleman would not go into detail on the allegations.
Hamel's mother, Carla Kennevrew, testified before the panel that Nash intercepted her son, who is not a resident of Pine Trail Apartments, while he was on the apartment grounds. Kennevrew claims Nash kicked Hamel in the groin, then beat his face with his fist and a pistol before calling Clinton police to arrest him for assaulting a police officer.
Nash testified that the apartment manager warned him of Hamel, and told him to remove him from the property. Nash said he confronted Hamel, and subdued him in a gesture of self-defense when Hamel's hands went into his pockets. Hamel later admitted to JPD Internal Affairs that he had marijuana on him at the time of the alleged assault.
"I felt threatened. He put his hands in his pants while I was talking to him. He could have been reaching for a weapon," Nash told the panel.
Nash denied beating Hamel before the panel and claimed the bruises on Hamel's face depicted in JPD Internal Affairs photos were the result of wrestling Hamel to the ground. Nash claims he sustained minor injuries himself from the fight, and filed an affidavit against Hamel in Clinton Municipal court in September charging Hamel with assaulting a police officer.
Deputy City Attorney Kimberly Banks told the panel that the city enforced its ordinance discouraging police officers working outside of corporate limits specifically to avoid the situation.
"We have a duty to make sure that orders are followed so that the city won't be the subject of a law suit when these kinds of issues arise," Banks said.
Jackson attorney Charles Witt represented Hamel and Kennevrew at the hearing. Witt would not confirm if his clients intend to sue the city over the Sept. 7 incident involving Hamel.
The panel said they would decide either in favor of Nash or the city at a later, unspecified, date.
Previous Comments
ID

157177

Comment

I have a question? If this officer is being terminated because he has a predilection to violence and also "Conduct Unbecoming a City of Jackson employee. This issue disturbs me since I have heard that the City of Jackson Fire Department has rehired one firefighter that beat his wife in front of their children, no disciplinary action for a Fire Captain for beating his wife at target,no disciplinary action for the firefighter got in police sting on soliciting street walkers, no disciplinary action for firefighters that were buying and selling stolen lawn mowers, the firefighters that was fighting at the fire station and a knife was used cutting one of the firefighters trying to break up the confrontation and recently rehiring a firefighter that the City of Jackson Fire 2 different time. Why is this police officer being terminated for protecting himself when he feared for his life on the issue Conduct Unbecoming a City Employee. Does the City of Jackson Fire Department under the same rule's and regulations? All of the acts that I have ention above is conduct unbecoming of a City Employee are we to ignore these violations for these employees? The City Legal Department had to approve of rehiring these employees and now they are trying to terminate this officer? I would request that the JFP investigate and see if these employees have been rehired on the City of Jackson Fire Department and who hired them back and why.

Author

Chef Tony

Date

2010-04-09T15:19:38-06:00
ID

157182

Comment

Is it already the season for unsubstantiated firefighter rumor and invective?

Author

Brian C Johnson

Date

2010-04-09T20:02:25-06:00
ID

157186

Comment

Let JFP investigate the Firefighter issue and let's see who's telling the truth. Brian do you want the truth or do you want to keep this issue hidden from the public? The season of truth is always open!

Author

Chef Tony

Date

2010-04-10T08:00:09-06:00