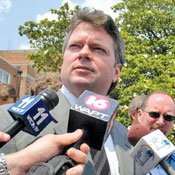 Gov. Haley Barbour signed H.B. 1456 into law March 19, requiring that pathologists doing autopsies in Mississippi--in addition to the state medical examiner--hold American Board of Pathology certification. Such certification is the "gold standard" for pathologists operating anywhere in the United States, according to Commissioner Stephen B. Simpson of the state Department of Public Safety, the agency tasked with oversight of the state's crime lab and, at some point, the state's medical examiner.
"That is one of the threshold requirements to apply for the position (of state medical examiner)," Simpson said.
Prior to the vote, Mississippi's Attorney General Jim Hood came out against H.B. 1456, sending an e-mail to coroners and others asking them to contact their legislators, and "encourage him or her to defeat this bill."
"This is an Innocence Project bill which threatens cases which involved Dr. (Stephen) Hayne," Hood wrote, adding, "Our office is working diligently to stop this potentially harmful legislation."
Mississippi hasn't employed a medical examiner since 1995. Counties pay the fees for autopsies, and the state Legislature failed to allocate funds for the position until 2008. Simpson became public safety commissioner in May 2008, and in August, he did not renew the state's contract with Hayne, who is not board certified, but had conducted approximately 80 percent of the criminal autopsies in the state for more than two decades--up to 1,800 a year by his own admission. Simpson advised Hayne to finalize his cases, several thousand of which were outstanding. The fact of his uncertified status eliminated Hayne as a candidate for the state position, Simpson said.
Earlier in 2008, the Innocence Project, a nonprofit organization that investigates and defends cases of wrongful conviction, requested the state board of medical licensure revoke Hayne's license to practice after working to exonerate Kennedy Brewer and Levon Brooks. Hayne and forensic dentist Michael West testified for the prosecution in both cases in the 1990s, and Brewer and Brooks spent a total of 34 years behind bars for crimes they did not commit. The board did not revoke Hayne's license, and Hayne filed a defamation suit against the Innocence Project in November 2008; Brewer and Brooks filed suit against Hayne and West in 2009.
It wasn't the first time, however, that Hayne's expert testimony was questioned. In the prosecution of Tyler Edmonds in 2004, he supported the prosecutor's theory that Edmonds, then 13, had a hand on the gun along with his sister, Kristi Leigh Fulgham, and that together, the two had pulled the trigger and killed Fulgham's husband, Joey. The Mississippi Supreme Court threw out the verdict in 2007, and on retrial the following year--without Hayne's testimony--a jury acquitted Edmonds.
More recently, on March 19, 2010, a Lamar County jury found Jennifer Wardle, 29, innocent in the death of James May in 2002. Originally ruled a suicide by Coroner Blake Davis, the state attorney general's office reopened the case at the request of May's family and indicted Wardle for murder in 2007, a conviction characterized as a "witch hunt" by Wardle's attorney, Jim Dukes. Re-examining May's exhumed body, Hayne said that the gunshot residue evidence on May's hands pointed to murder, not suicide, contradicting other expert testimony. The jury didn't buy it.
In November 2007, Radley Balko, senior editor at Reason magazine, documented several other cases where Hayne's peers, defense attorneys and others questioned his tactics, if not his judgment, in his story, "CSI: Mississippi," exposing Hayne in the media for the first time.
On March 19, however, Hood stated that his e-mail opposing H.B. 1456 had no connection to Hayne, and that his office had not come out against the bill.
"We weren't taking a position on whether it's a bad bill," Hood told the Jackson Free Press.
"Look, I'm not trying to defend Dr. Hayne," he added. "It would be politically more convenient for me not to say anything about it, but when I'm asked, I'm going to tell the truth about what I've seen, and what the facts are, and I don't want it to look like I'm defending him. But at the same time, I'm trying to say, 'Look, we need to open the crime lab.' That's been our position; it hasn't been pro (Hayne) or con him. It doesn't have anything to do with what our position is."
Mississippi Innocence Project director Tucker Carrington expressed bewilderment over Hood's position.
"I testified twice (at the Senate judiciary committee) and the second time I testified, the A.G.'s office has somebody there testifying," Carrington said. "...[T]he question was posed to the A.G.'s office: What's your position on the bill? And their position was: We take no position on it. And here, a week later, Hood sends out this e-mail. ... It's distorted, it's not what the bill does at all, what he claimed it did. ... It doesn't have anything to do with old cases. The bill just says that if you're going to hire a pathologist, they have to be licensed."
Carrington indicated that Hood might have a conflict of interest between the bill and the cases where he or his office has used Hayne.
"I find it unconscionable that Hood would ... a couple of days before this trial ... would essentially vouch for the credibility of the main witness in this murder trial," Carrington said of the Wardle trial and the timing of Hood's e-mail.
Little doubt exists that the attorney general is in favor of expanding the medical examiner's office and the state crime lab. Hood's office has researched other state's medical examiner offices, including Arkansas, which employs nine full-time medical examiners with a population slightly less than Mississippi. Late last year, Hood proposed legislation adding a $13 fee to traffic tickets to fund a similarly staffed office for the state.
"[W]hat we did was basically put together a package for legislators, and we handed it to them, saying, 'This is what we need for a medical examiners office. This will fix it,'" Hood said. The proposal passed the House and died in the Senate.
But the Legislature did appropriate $500,000 in the 2008 session to hire a state medical examiner, although Simpson, who is seriously considering a run for Hood's job, has not located a suitable candidate for the position for what the state is offering.
In the meantime, the state contracted with Nashville-based Global Forensics to handle the state's needs. Simpson required the company to set up shop in Mississippi, and in a peculiar turn of events, Dr. Bruce Levy, who ran the in-state office, got busted in a pot sting the night before H.B. 1456 went up for a final House vote on March 17. Shortly thereafter, Simpson put the company on notice that their contract with Mississippi would be terminated within 30 days.
Global Forensics is negotiating with Simpson's office to retain their services, and Simpson has agreed to negotiate, with the stipulation that Levy be dismissed.
"He's been terminated, and they have severed their relationship with Dr. Levy completely," Simpson said, adding that the company has been doing "excellent work" for the state.
"Anything new, of course, has some uncertainty," he said regarding how some county coroners have received the out-of-state company in the wake of Dr. Hayne. "Some people are just resistant to change, naturally."
Requiring board certification for the state's forensic specialists is something Simpson feels is "absolutely necessary to improve the services we give Mississippians. ... Prosecutors ought to take some solace in that their scientific expert testimony is credible and will withstand appellate scrutiny. That's what they all want, to do it right the first time and be done with it."