Thursday, September 17, 2009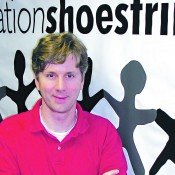 Jackson's Operation Shoestring on Bailey Avenue represents the opportunity for the city's children and families to break out of cycles of poverty through education. The organization's mission is about empowerment and making a difference, and Executive Director Robert Langford is dedicated to providing quality programs to enrich and broaden the perspectives of the kids Operation Shoestring touches.
"They're getting more academic focus; they're getting to do arts, (which help) cognizant development, academic performance, problem solving (and) self-esteem issues," Langford told the Jackson Free Press in 2007. "We're taking our kids ... to (places like) New Stage and the art museum or to learn how to ride horses. It's about doing interesting, amazing things and expanding their horizons. Giving kids a vision of, 'Wow! Look at this world out there. I can be part of this bigger world.'"
Operation Shoestring is a grass-roots initiative founded in 1968 in the basement of Wells United Methodist Church. Over the years, the organization has grown into a muli-faceted interfaith ministry that nurtures neighborhood development, promotes reconciliation throughout the larger community and helps families achieve self-sufficiency. Among its programs are: after-school and summer programs; dropout prevention; family communication and parenting classes; art, music, and dance; athletic summer camps; and a food pantry.
Tonight, Operation Shoestring is holding its annual fund-raising dinner, "A Conversation About Community," at the Jackson Convention Complex (105 E. Pascagoula St.) from 6:30 p.m. to 9 p.m. The highlight of the evening will be a panel discussion moderated by JFP Editor-in-Chief Donna Ladd, and featuring: Jim Barksdale, founder of the Barksdale Reading Institute; Oleta Fitzgerald, director of the Children's Defense Fund's Southern Regional Office; Luther Ott, chairman of the Community Foundation of Greater Jackson; and Dr. Aaron Shirley, chairman of the Jackson Medical Mall Foundation. Individual tickets are $50. Call 601-353-6336 for additional information, or go to the Operation Shoestring blog site.
Do you know someone who should be the JFP Person of the Day? Briefly tell us his or her story, sending it to [e-mail missing]. Include contact information and a picture, if possible.