Thursday, September 10, 2009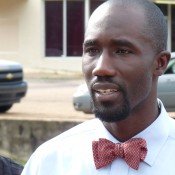 The Jackson City Council's budget committee passed a motion yesterday, 3-2, asking the Johnson administration to locate funds to finance a $1,000 per employee pay raise, a cost increase of about $2.6 million, according to the preliminary estimate of Jackson Chief Administrator Rick Hill.
"We threw out a ballpark number," Hill said. "I'm waiting on a report now to get more accurate numbers, but we're talking about probably around $2.6 million, including fringes and benefits. We've got roughly 2,200 employees, and at $1,000 pop you're looking at $2.2 million, but then you have to add retirement and benefits."
Budget committee members Ward 3 Councilman Kenneth Stokes, Ward 2 Councilman Chokwe Lumumba and Ward 6 Councilman Tony Yarber voted to approve the motion over the opposition of budget members Ward 7 Councilwoman Margaret Barrett-Simon and Ward 2 Councilman Jeff Weill.
"We can't afford that kind of money. The budget can't handle it," Weill said, referencing a city facing a considerable drop in tax revenue. Mayor Harvey Johnson Jr. submitted a preliminary budget proposal that accounted for the revenue loss by closing unfilled city staff positions and shifting budget savings accrued through decreases in medical and fuel costs. Johnson advised budget committee members that a raise could possibly herald staff cuts, Weill said.
Hill said the city has probably missed the deadline to impose a tax increase to fund the raises, since the council will be voting on the full budget package early next week.
"You've got to hold hearings; you have to advertise that you're going to have a tax increase, so we don't have that option anymore," Hill said, explaining that the city only had four methods left to support the more than $2 million cost increase.
The city could suggest a cut in city services, such as senior-citizen centers and summer programs, or it could dip into the city's budget reserve fund—which could affect the city's credit score and potentially raise the city's interest rate on bonds. The city also has the option to hike fees and citations, which would likely not happen without significant outcry from people looking to build within the city's corporate limits. Or the city could simply cut staff.
Hill warned, however, that lay offs would be anything but simple.
"When you have a lay off, you've got to come up with a plan on how to do it. You've got to decide if you're going to do it by seniority or by classification, which determines exactly how many people end up losing their jobs. It's not the kind of thing you can do on the spur of the moment. You'll need a well thought-out plan on how to do it," Hill said, adding, "Pain will be an understatement."
City Spokesperson Chris Mims said the Johnson administration had already considered pay raises, but found the endeavor too costly.
"We had hoped when we began crafting this proposed budget that we'd be able to offer pay raises, but after going through the departments we realized we could not offer them," Mims said, speaking for the mayor.
Mims said the administration sees only two options to fund the raises: Taking $2.6 million from JATRAN, currently the largest subsidized program the city provides, or lay offs.
Hill will present an official report on the full cost of the pay raises and the number of employees who might have to be sacrificed to fund the raises, though the number, he said, would be uncertain until the administration determined whether cuts would be based on seniority. The council has no further votes on the budget scheduled until the Monday vote on the full budget package.
Yarber said he would not approve the pay raise if it meant the city losing staff.
"I'm not going to vote for a pay raise if it means we lose 100 employees," Yarber said. "All we were asking for yesterday was for the administration to make the attempt to find the money, just so we can tell our employees that we really looked everywhere, that we looked under everything to find the money for sustainable raises. We want to say that we made the attempt."
Previous Comments
ID

151760

Comment

Everybody together now: WTF!?!

Author

DonnaLadd

Date

2009-09-10T12:19:57-06:00
ID

151761

Comment

Harvey can run a government, but it seems the council has a few people who need Civics 101 again.

Author

Ironghost

Date

2009-09-10T12:22:24-06:00
ID

151797

Comment

(Ledger caught up with this story an hour or so later. Pretty good: It usually takes them at least a week.)

Author

DonnaLadd

Date

2009-09-10T17:42:59-06:00
ID

151800

Comment

Glad to join the great debate. Baquan, I will assume that you have seen the budget that I've seen, AND reviewed it as I have to know the extent of the funds. With that assumption I will also assume that you understand that the point of yesterday's meeting was to make motions to the administration about concerns of the council and not to approve a final budget. If the administration is unable to meet the requests, that will be expressed by the administration. Then, on Monday the budget proposed by the Mayor will be voted up or down. Surely, you understand that the budget process is about review of and presenting reasonable challenges to the budget. Will the Mayor come back and say we found the money? Probably not. But that was not the point of MY vote. My point was well stated by Adam in his last paragraph.

Author

tyarber

Date

2009-09-10T20:02:15-06:00
ID

151801

Comment

So the point is to say you voted for a pay raise and make the mayor look like the bad guy when he has to come back say the city can't afford it (something you already know)?

Author

jd

Date

2009-09-10T22:11:13-06:00
ID

151845

Comment

I applaud the efforts of Councilman Tony Yarber. I do not think he was saying look for the funds just for the appearance of looking...he wants to sincerely look at what cuts can be made to provide the raises that are needed. I agree that the price is too high if the raises come at the cost of jobs. We are not in a position as a nation and definitely not as a city to be removing income from one family to add income to another. I applaud you for refusing to be a part of such a sad and insensitive act....continue to do the good work that you are doing....I think you are keeping Stokes on his toes!!!!!!

Author

spirited1

Date

2009-09-11T15:44:27-06:00