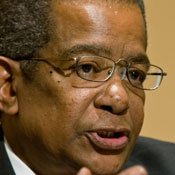 Mayor Frank Melton told the Jackson Free Press in February that he was concerned enough about the costs of lawsuits to him personally that he had set up a blind trust to protect his personal fortune.
The Jackson City Council is meeting today at 4 p.m. in City Hall to discuss how to deal with the late Mayor Frank Melton's leftover legal bills and lawsuits. It has been an ongoing debate whether the Council should foot his legal tab, including thousands of dollars for lawyers to defend him in his federal trial for violating the civil rights of the owner and tenant of 1305 Ridgeway St., which he claimed was a crack house, although no drugs were found there. One of his bodyguards testified that Melton led an entourage of teenagers and police officers to destroy the house with sledgehammers in August 2006, a story first revealed by the Jackson Free Press.
Melton has long maintained that he was acting on behalf of the city, even as some members of the council and many citizens say he was acting on his own and should be responsible for his own legal bills.
In a long interview in his office on Feb. 26 after a federal jury could not reach a decision on his guilt, Melton told the Jackson Free Press that he was still comfortable financially—and, in fact, had a "blind trust" set up, but would not say where the trust is located. He initially said that the news about the "blind trust" was on the record, but called the next day to ask that the information be withheld until after his federal trial, along with other portions of his interview that he did not want published until "later."
Melton said in the interview that he had set the blind trust up because there were so many lawsuits pending against him. "I learned how to do that from Gov. Barbour. When he was elected, he put all his assets in blind trusts, and I understand why you would do that; he gets sued, I get sued. If I can't touch it, nobody else can," he said.
When asked if he could prove that he had a blind trust, Melton said: "Yeah. But then I'd have to expose where it is," adding, "If you printed it, then they'd start suing that trust."
The Jackson Free Press has not confirmed whether the blind trust exists.
In the same interview, Melton went immediately on the record about other investments. "Well, I can tell you this much for the record, I've got about $5 million in investments out there that are not in blind trusts. I'll specifically tell you where they are. One is in the ownership of 23 newspapers in Los Angeles, and it's called Wave Communication, is the company. The parent company is (Houston, Texas-based) Equal Access Media." He said the papers are done in both English and Spanish, and the CEO is Pluria Marshal Jr.
According to news reports, Marshall, a veteran of the black press, bought Wave Community Newspapers in 2000. In December 2004, he filed bankruptcy with $5 million owed to creditors.
Melton said that he has a will and his wealth would go to the young people of Jackson. "I'm going to split a portion between the kids who have lived there. (Wife) Ellen will be the executor, and it'll probably be the YMCA. Specifically, the Farish Street YMCA," he said.