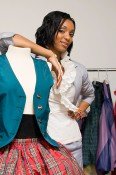 Are you ready? Plenty of folks are headed out of town for the long Memorial Day weekend. But if you're not on the road, no worries. There's lots to do right here in Jackson.
Tonight, at 7 p.m. check out Couture and Conversation at Touch Night Club with one of the JFP's Young Influentials, Lauren Nicole Taylor. At 8 p.m., go celebrate with Jackson women born under the sign of the bull at the Taurus Throw Down at Hal & Mal's. Party with hostesses Queen Folayan, Julie Skipper, Andi Agnew, Glenna Rousseau, Stephanie Burks and Katie McClendon, who are promising some special surprise performances. Find the details for these events and more on the JFP Events Calendar.
Tomorrow, roll out early and head to the Mississippi Farmer's Market at 8 a.m. or the Belhaven Market at 9 a.m., where you can stock up for your weekend barbecue and picnic needs. Then head over to the Jackson Medical Mall for the "Out of School Summer Festival" for a day of family-friendly activities. Then, before heading out for the evening, check out the JFP's Music Listings page as you're putting on your Saturday night best. Whether your preference is rap, rock or a DJ, you'll find it all here.
If you'd rather stay indoors this weekend, head to the Mississippi Museum of Art in your comfy walking shoes and take in the exhibits: Raoul Dufy: A Celebration of Beauty; American Masters of the Mississippi Gulf Coast; and Eudora Welty in New York. Combine the blues and art at the Smith Robertson Museum's exhibit of The Chitlin Circuit Review. Or, if smaller art galleries are more to your liking, check out the JFPs Art Gallery Listings for the city's private gallery showings.
Monday, head to Highland Fine Art Brokers for a figure drawing class, or out to the Mississippi Craft Center in Ridgeland for a class on fused glass. Both classes start at 6 p.m., which gives you the whole day to polish off the barbecue leftovers.
And if you'd rather leave the cooking to someone else, be sure to click over to the new JFP Spring Menu Guide and the Jackson Restaurant Guide to see all the delicious options the Capitol City has to offer.
Not seeing your event, gallery or restaurant listed? Enter it yourself (It's Easy!) or send the info to [e-mail missing]. Have a great weekend y'all.