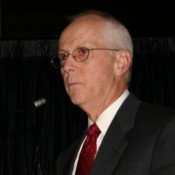 Mississippi lawmakers are still deadlocked on a budget agreement for the upcoming fiscal year after spending last week in fruitless negotiations. With state revenues down $350 million to $400 million for the year, House and Senate negotiators remain about $37 million apart in their proposals for the roughly $5 billion 2010 budget.
Between 1,000 and 2,000 jobs in public safety, health and education are at stake in that discrepancy, said Rep. Cecil Brown, D-Jackson, one of the House negotiators. Under the Senate's proposed budget, public education would receive $24 million less than under the House's plan, and the Mississippi Highway Patrol would suffer a $4 million cut. The Senate's lower figures are part of an overall plan to reserve some Medicaid funds from the federal stimulus package for the 2011 and 2012 fiscal years.
"They're doing all that so that they can take money from the stimulus package and move it from next year's budget to the following year's budget as a reserve fund," Brown said. "We're pretty sure the federal law does not allow that. But secondly, even if federal law would, we think it's just bad public policy to lay off highway patrolmen, to lay off nurses at the Health Department."
In his May 6 budget recommendation, Gov. Haley Barbour called on legislators to carry over $93 million in stimulus money for Medicaid to 2011, to offset future damage from the global economic recession.
"Realistically, we should expect the financial picture to remain dark for Fiscal Years 2010, 2011 and 2012," Barbour said in a statement accompanying his budget recommendation. "Economists say this global recession is already a year and a half old and still hasn't hit bottom; and, historically, state revenues recover more slowly than the overall economy."
As of May 19, negotiators were still waiting on a definitive response from the federal government as to whether the Medicaid stimulus funds could be reserved for future years.
Another sticking point in negotiations is a $90 million hospital tax that Barbour has proposed as a partial remedy for the state's Medicaid shortfall. Estimates of the 2010 Medicaid shortfall range from $60 million to $80 million, according to Jacquelyn Agho of the Mississippi Health Advocacy Program. Because the federal government matches state contributions to Medicaid at a three-to-one ratio, though, declining state contributions would have an even more negative impact on the overall state Medicaid budget.
Barbour has pushed unsuccessfully for a tax on hospital beds for the last two years. This year Barbour repeated his call for a $90 million tax and painted a doomsday scenario for Medicaid if lawmakers fail to pass a tax on hospital revenue. Without it, Barbour warned, the state Medicaid program would face a $451 million hole in 2011, in addition to the $486 million loss it would suffer through declining state contributions.
In the past, House Democrats and representatives of the state's hospitals have argued that the burden of a hospital tax would ultimately fall on patients. This year, however, House negotiators conceded the necessity of a hospital tax and offered an initial figure of $45 million, which they have since increased to $53 million. As of Tuesday, however, the Senate's lowest proposal was for $60 million, with an increase to $90 million over two years.
Brown says that House lawmakers are reluctant to settle on such a significant figure during the general budget appropriations process.
"This is something the Medicaid Committee ought to be working with," Brown said. "But in order to do the $53 million tax, we've asked them to tell us they won't make any cuts during that period of time, cuts to benefits. And they've refused to do that."
House negotiators reject the stringent fiscal conservatism of Barbour's proposals, arguing that the economic weather justifies more liberal use of the state's rainy day fund. Barbour and the Senate both propose drawing roughly $90 million, or around one fourth, from the fund in 2010 and 2011. The House proposal uses $111 million in 2010, which would still leave $250 million for the 2011 fiscal year, Brown points out.
"We don't want to take it all right now, but we certainly don't want to take the Medicaid money that's available next year and stick it into some kind of savings account for the following year," Brown said.
The 2010 fiscal year begins July 1, and Brown acknowledged that uncertainty over the budget is already affecting state agencies. According to Education Department spokesman Pete Smith, school district superintendents have to delay hiring and firing decisions while the state's education budget is in limbo.
"School districts would like to know what type of funds they will have to budget," Smith said.
Previous Comments
ID

148094

Comment

I still can't believe they want to tax hospital beds. That will only take money out of medical care or raise medical costs. If you want to tax the medical system, tax the health insurance companies, the LEAST health related part of the health care system. Tax medical insurance forms!!!! A buck a page. So long budget deficit. Hello shorter forms and reduced paperwork. Oh heck, why not move to a single payer system and take state funding out of the equation altogether? We don't need health insurance companies skimming 30% of every health care dollar. The "value" they provide is illusory. The more you need the service, the more it costs, the less you get, and the sooner they won't cover you at all. The high cost of insurance isn't just the premium, it is also the lack of coverage and care for those who need it most. Until we move to a single payer system, MS should tax the health insurance companies to fund Medicare. It would be such sweet and poetic justice.

Author

gwilly

Date

2009-05-22T20:14:14-06:00