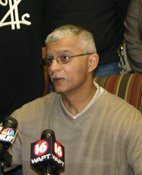 More than 32,400 voters turned out to vote in Jackson yesterday, handing former Mayor Harvey Johnson, Jr. a decisive win in the Democrat runoff elections. Hinds County's unofficial results show Johnson beating former two-term City Councilman Marshand Crisler by just under 8,500 votes. The final tally is Johnson, 20,475 (63.089 percent) to Crisler, 11,979 (36.911 percent). Johnson now faces a slate of Republican and Independent candidates in the June 2 General Election.
In Jackson's wards, City Council seats were up for grabs in ward 2, 4, 5 and 6.
Chokwe Lumumba also handed Wydett Hawkins a decisive loss in Ward 2, where Lumumba took nearly 61 percent of the votes. Incumbents took the wins in Wards 4 and 5. Frank Bluntson will retain his seat In Ward 4, and Charles Tillman won in Ward 5. Both wards were close, though, with the winning candidates coming in with small 4 and 5 percent victories. None of these winners from last night's runoff, however, face any opposition in the General Election.
In Ward 6, left in contention by Crisler's run for mayor, Tony Yarber defeated Joe Lewis, taking just over 55 percent of the vote. Yarber will face Independent Samuel Kazery June 2.
Comparing the May 5 primary turnout to last night's runoffs, 1,255 fewer Jacksonians voted yesterday.
Previous Comments
ID

147859

Comment

WAPT reported last night that more people voted in the runoff. Still, the story is that people turned out in a very impressive way in a runoff. So much for the conventional "wisdom" that African Americans do not vote in runoffs. It sure might discourage these shortsighted and cynical political strategists from deciding that a black Democrat needs to raise half a million dollars and court the conservative white vote because they're the only ones who bother to show up for runoffs. Amen to that.

Author

DonnaLadd

Date

2009-05-20T09:09:40-06:00
ID

147887

Comment

Donna, Great job with your coverage here of the elections. I am grateful that Jacksonians showed up and showed out yesterday. A strong, clear and concise message was delivered yesterday. Let's hope everyone was listening.

Author

Othor Cain

Date

2009-05-20T10:56:15-06:00
ID

147893

Comment

Regarding the numbers, I expect that when all is said and done and certified, they will be somewhat different from those above. Still, the difference between the two vote counts is small. I also want to remind everyone that the race is not over. People still need to turn out on June 2 for the general election. Let's not sit back and lose in two weeks after working this hard for months.

Author

Ronni_Mott

Date

2009-05-20T11:51:59-06:00
ID

147911

Comment

How will Bluntson and Tillman know how to vote without Melton around?

Author

Brian C Johnson

Date

2009-05-20T15:19:16-06:00
ID

147917

Comment

Stokes will lead them, I'm sure.

Author

Jeff Lucas

Date

2009-05-20T15:44:18-06:00