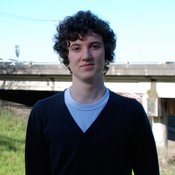 A small band of musicians huddled in the soft light at center stage in an otherwise dark and silent theater. Armed with their instruments, they seemed to alternately combat and submit to the darkness surrounding them and musician Lloyd Bourne's shifting melodies. Bourne stood to one side, sometimes directing, sometimes flailing his guitar, sometimes producing sounds through intriguing tools such as a Kaoss Pad, a device that uses a touchpad to apply effects to sounds. All the while, animations created for the occasion played on a screen behind the musicians, lending an otherworldly effect.
Bourne says he never envisioned a live performance of his recent album, "Shantih," while he was writing it, but the show was stirring and unique. "I wanted it to sound organic and human," he says of the performance, "but not be perfect."
Bourne began teaching himself to play guitar in the 8th grade, and now writes music on keyboard as well. He started experimenting with electronic music five years ago, adding computer programs like Logic Pro and Reason to his musical repertoire. Bourne now studies under Jackson musician Barry Leach and takes music classes at Millsaps College. He draws inspiration from artists such as Trentemøller, BT, and Venetian Snares, but when it comes to his own music, he just "does what he feels like," liberating and refining the melodies that show up in his head. Bourne crafts these melodies into song through his musical alter ego, Huunter (pronounced simply "hunter").
The young composer says that he must create music, adding that he experiences periods of withdrawals if he stops, so he doesn't. He never takes a break for more than three or four hours, he says, despite his workload as a full-time biology student at Millsaps. Bourne aspires to do lab work, and currently does research on the evolution of Mississippi fish for the Museum of Natural Science.
He admits that it's difficult at times to balance his studies and his need to create music, especially because he tends to become tunnel-visioned concerning the latter. His two disciplines aren't always at odds, however, as he likens his experimentation with layers of sound and music to working with the scientific method.
"Shantih," Huunter's first full-length album, abounds with such layers of sound and thematic elements. The musical pieces address themes such as birth, death, mourning and remembrance, all without lyrics. Throughout the album, Bourne braids three sources of inspiration—the life and death of his grandmother, T.S. Eliot's "The Wasteland" and the biblical story of creation. He doesn't want his intentions to be mistaken, though, and says that his main intention with the album was creating the music he wanted.
"I just wanted to write some good songs," he says, stressing that these themes are merely a "sprinkling on top" of the music itself. Still, the complex nature of each song is apparent in the titles, each of which corresponds to a day of the week, such as "Thursday: The Illuminators, The Wind, The Inhalation."
Bourne takes the title of the album from the final line of "The Wasteland": "Shantih shantih shantih." Bourne interprets this as an onomatopoeia for rain, and listening to the album is akin to sitting on a porch as the rain passes in waves, shifting often between sprinkles and downpours. At times the album is upbeat and hopeful, resounding with strings and drums. The mood can quickly turn dark, though, with echoes of eerie voices and somber tones like something from the world of Myst.
Now, with "Shantih" under his belt, Bourne is forging ahead into new territory. He says his music is becoming less ambient in favor of dissonance, and this has led to a somewhat surprising concept for his next album, which he hopes to produce before the end of the year. He calls it "post-modern dance": dissonant, driven melodies built around four-on-the-floor beats. This departure from the style of "Shantih" stems from what he calls his most important goal: "to keep challenging myself, and never to do the same thing twice." He hopes to get his music out in Jackson, both live and otherwise, soon.
"I'd like to make a career out of this," he says, "so I'm really going to be focusing on it in the next year."
In coming months, Huunter plans to perform his new dance music with his brother's band, Signals. Until then, you can find his music through all major online vendors and keep up with news through his Web site, http://www.huunter.com.