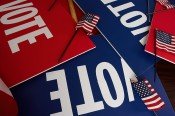 Your votes today could determine Jackson's next mayor. Whether or not you voted in the primaries, if you're a Jackson resident and an eligible voter, you can vote today. See Answers to Election Day Questions for information on eligibility, poll hours, who to contact if you run into problems and more.
The Fondren Express will do its part today to help Jackson voters get to the
polls with rides for the majority of the day. This free service begins at 7a.m. and except for lunchtime hours, will run through 7p.m..
The route through Fondren will be the same as any other day, but the rides will be free. The trolley route encompasses St. Dominic's Hospital, the UMC campus, Millsaps College and points in between. Riders will board at designated stops, be taken to two local polling places and then dropped off anywhere along the route they choose. Voters in precinct 14 will be taken to Fondren Presbyterian Church.